The 1975 documentary Grey Gardens turned eccentric mother-and-daughter recluses "Big" and "Little" Edie Beale into legends. But the story behind that story is a legend in its own right. It's a tale of unseen film footage that was lost or buried for reasons that aren't entirely clear and has, it seems, magically resurfaced. In 1972, Lee Radziwill, the socialite niece/cousin of the Beales, enlisted her boyfriend at the time, Peter Beard, and two filmmaking brothers, Albert and David Maysles, to make a film about East Hampton, New York, where she spent many a childhood summer. The idea was to have "Big" Edie Bouvier Beale, the sister of Radziwill's father, John Vernou Bouvier III, narrate Radziwill's memories.
On Friday, May 18, that legend will finally play in theaters. The documentary That Summer, directed by Swedish filmmaker Göran Hugo Olsson (The Black Power Mixtape 1967-1975, Concerning Violence), contains about an hour of the footage spearheaded by Radziwill, as well as some shot by Andy Warhol and recent footage of Beard reflecting on his life and art. The reason that footage of the Beales has stayed in the dark so long is obliquely stated via a brief title card in the film:
The project was ultimately shelved, and the four reels of original footage were lost for 45 years.
"I don't know about the circumstances," Olsson said, when I asked him by phone what had happened to the footage before it landed in his hands. According to Olsson, the eventual producers of That Summer, Joslyn Barnes and Sue Rockefeller, learned of the footage during a dinner with Beard and connected the director from there.
The most common story that has circulated about the long-lost footage concerns Radziwill confiscating it after the Maysles screened it for her in 1972. (The Maysles, after the brief shoot with Radziwill and Beard, would return to Grey Gardens later that year to make their own, eventually classic film.) In 1998, another of Grey Gardens's directors, Ellen Hovde, told the New York Times that Radziwill was "appalled" after seeing the footage she'd commissioned, which focuses on the crumbling Grey Gardens estate (in worse shape, even, than it is in the Maysles' movie) and fraught, frequently incomprehensible relationship between the mother and daughter Edies.
G/O Media may get a commission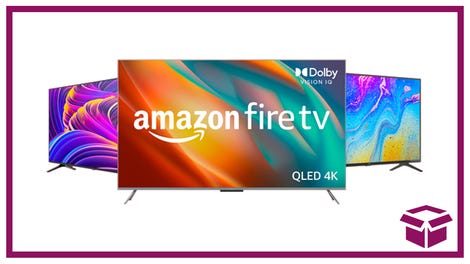 Ooh. stunning.
New Amazon Fire TVs
"I think she was overwhelmed by Edie," said Hovde. "Big Edie considered it a coup: 'A Beale upstaged a Bouvier.'"
"We projected the stuff for Lee, and we could see that the real story was the Beales, and it was so powerful that it was upstaging her stuff," said Albert Maysles, who died in 2015, in Megan Cunningham's book The Art of the Documentary.
Over the years, Radziwill's account has corroborated that of Maysles. "After a few months of filming, of course, the Maysleses didn't want my film about East Hampton nostalgia and Aunt Edie—they wanted to focus on mother and daughter," she told Vogue in 2009. Repeated requests to Radzwill's management for comment on this article went unanswered.
"I think it was lost because 1972 was a really busy year for Peter Beard and Lee Radziwill," said Olsson, denying any knowledge about whether Radziwill actively suppressed the footage. "I think that it got lost in other commitments and travels and they were really active at this time."
How these mythical reels of Beales footage were unearthed is a bit clearer than why they were lost. In a statement via the publicist of That Summer, Beard explained:
"We looked for many, many years for the reels, looking in various storage spaces and searching high and low in the archives, and then one day a filmmaker's dream came true. We loved the Beales, and I had a sense of relief and disbelief when I heard the reels had been found. The return of the reels came about when Al Maysles called the Studio to ask permission to use footage he had for outtakes for a DVD, but we weren't certain what he was talking about. It was only when the reels were sent to be digitized and the transfer house sent a DVD and the originals back to the studio that we saw our lost footage, all filmed before the painters and the carpenters got their hands on the house. Seeing our footage again was a dream."
With the same metaphor, Olsson told me that working on That Summer was "like coming home to a dream home that I was never expected to be invited to." He said he didn't have that much more to work with than the hour of Beales footage included in the released film—maybe another hour of footage tops. And his vision for presenting the footage was to keep it looking like he found it. "I want to leave the audience with the same feeling as I [had] when I saw [the footage] first," said the director, who also helped edit and write the arc of the finished doc. "It's more raw. It's more up to the audience."
And what footage it is. That Summer documents the aftermath of the Suffolk County Board of Health's initial investigation of the dilapidated mansion. We hear Big Edie describing her trauma after the fire department came into their house and hosed it down. At the time, according to the LA Times, the Beales were eating $180 worth of ice cream a month. Radziwill and her sister, Jacqueline Kennedy Onassis, would reportedly end up spending $32,000 in repairs to Grey Gardens.
Many scenes spotlight Radziwill's attempt to help her relatives—with a brow so permanently furrowed it might as well be tattooed on, she talks to various workers and attempts to persuade Little Edie to put their fine china in storage. Radziwill patiently asks about the colony of cats that sun themselves on the various porches of Grey Gardens, and at one point refers to the family of raccoons who also found a home there via the holes in the mansion's walls and ceilings as "beautiful."
"We see everything more or less through Lee's eyes," said Olsson. "She's present in every scene, and being exposed in the same way. So we have a more organic and natural way of meeting these people."
Though That Summer features a contemporary voiceover from Radziwill, it was not recorded specifically for this movie—it comes from an interview conducted by Sofia Coppola in 2013. Olsson described Radziwill as "cooperative" in the making of the movie, and said that "personal issues" prevented her from sitting down for a new interview.

Whether or not upstaging led to this footage going unseen for almost five decades, it is undeniable that the Beales steal the show. That Summer contains at least one classic Little Edie line to add to the canon ("I feel a certain way about everything"), her particularly stirring rendition of the 1941 Louie Massey hit "My Adobe Hacienda," and plenty of frantic bickering between the mother and daughter. "What are you looking for?" Big Edie snaps at one point. "What I'm always looking for: either my pants or my makeup," answers her daughter.

Though the squalor and unclear mental state of the Beales darkens any depiction of their lively eccentricity, there's a particularly bleak moment toward the end of That Summer. The camera focuses on Big Edie staring off behind her glasses, patting her hair with her left hand as she listens to Little Edie refer to her uncle "Jack" Bouvier (clearly John Vernou Bouvier III, brother of Big Edie and father of Radziwill and Onassis) as the "devil incarnate," who showed to her "found how perfectly terrible the male species is."
"Well, you were in love with him, you shouldn't have fallen in love with him," says Big Edie.
"I was madly in love with him," says Little Edie.
"You shouldn't have had incest with your uncle," scolds Big Edie.
"I didn't say I had incest, I just found out about men."
"Well you had to find out some time, didn't you?"

In their nonchalantly stream-of-consciousness discursive style, they segue into a discussion about makeup and then the Suffolk County Board of Health, which Little Edie suggests should be bombed.
That scene is the provides the most obvious reason to bury this footage, if that's in fact what Radziwill did. To Vogue in 2009, though, she shrugged off any feelings of embarrassment her relatives could have caused her: "You couldn't possibly be ashamed of them; you celebrated them," Lee said. "I am very proud of the Beales. They made their lives into what they wanted, which was a fantasy. They had no complexes about the conditions of their house or themselves. They were really happy not comparing themselves to anybody else."
Little Edie didn't always repay the courtesy of her cousin's kind words. "Mother and I were doing fine, then suddenly we were plunged into something awful when Jackie Kennedy sent her sister Lee Radziwill down and made me sign a paper firing our lawyer," Little Edie told the LA Times in 1998. "Then they started slandering me and they raided our house without a search warrant. They said the house didn't belong to us and that I was crazy and should be put away. I am definitely not crazy, and have always been terribly solid. All I can say is that everyone was very cruel."
And speaking of cruel, the question of just how ethical it is to enjoy the ostensibly tragic lives of the Beales remains evergreen and bears examination with this new film.
"Now we are more aware of how film or anything could expose people in a way they couldn't really see coming," Olsson told me. "What's the limit of the border between eccentric and crazy? I think Peter Beard puts it beautifully [in the film] when he says they were happy and he adored them and it was okay. I think that people should be allowed to be more themselves if they want to. There is a tendency toward streamlining behavior. I think New York in the '70s, I know it was the worst time in some aspects of that city, but I also know it was tolerant at that time, too."
In 1978, Little Edie contended to Newsweek that she did not feel exploited.

"They weren't holding a gun on us," she said of the Maysles. "I just wanted to show myself off as an entertainer, and I wish the film had me doing six more dances, but what they did was right."
Her outlook on the movie was less upbeat in that 1998 interview with the LA Times.
"They made the film on a shoestring, and though it took just five weeks to shoot it, it took them three years to get it to the point where they could show it," she recalled. "I guess it's done well, but I don't like documentaries. They're depressing and I don't understand them."