There's beef cooking between two fashionistas over their bafflingly similar Instagram feeds, and folks, there's a lot to chew on.
A fashion blogger named Jenn Lake posted on the blog she runs, Style Charade, claims that another fashion blogger—whom she doesn't name in the post—has been ripping off her material on social media. According to Chicago Mag, Lake's twinsie is a woman named Rosie Clayton, who does not have her own blog, but who is popular on Instagram for her bright, feminine looks.
The two were apparently friends once, but those days are long over. In her post, which is titled, "What To Do If You're Being copied On Instagram," Lake writes:

To sum up the problem, someone has been using my Instagram account as a template for their own. This person has systematically copied my channel, captions, location concepts, and personal style for more than three years. I'm not talking about just a dress, a pose, a wall, etc. (although there's that too). It's about ongoing examples of copying (exact looks, images, and ideas). As a result, I've taken immense steps to try and evolve the look and feel of my Instagram account to further differentiate myself and push the creative boundaries. Every time I pivot into new territory, the individual does the same soon thereafter.
Lake claims this unnamed other Instagrammer's feed has cost her business.* Although Clayton's feed predates hers by a month, many of the allegedly copied photos appear on Clayton's feed after Lake's. That's not the case with every single one, though. According to Chicago, Clayton says Lake is actually copying her!
Reached by phone in Miami while attending Art Basel, Clayton told Chicago the finger should be pointing in the opposite direction. "I'm not connected with certain big fashion bloggers and I don't have a blog [like Lake]. Because I have less followers it looks like I'm the one copying," she said. (Lake has 149,000 followers, while Clayton has 119,000.)
G/O Media may get a commission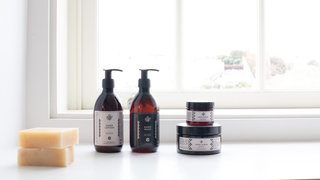 Exfoliate and Hydrate
The Handmade Soap Company
Let's take a peek at some of the evidence.
Hmm.
Lake finished the blog post about her former bestie turned evil nemesis by demanding that Instagram followers choose sides and unfollow. As she notes, her ideas on social media can't be protected so she needs the help. She asks that people DM her when copies occur, and shares this haunting anecdote:

Over the years, countless friends will message/text me to flag examples of this person copying. It usually happens in the evening when I'm home from work, and I turn to my husband every time and say, "how can (this person) sleep at night?!"

His response always gives me chills…

"Very soundly," he says. "Because it's working."
Shudder.
Editor's note, 5:24pm: Lake wrote to us to let us know that in her blog post, she wasn't referring to Clayton as the one copying her Instagrams. She reminded us that she didn't name names in her post. We regret our error in saying that she claimed Clayton was causing her to lose business, and this post has been revised to reflect that her claim was about an unnamed Instagrammer. We asked Lake, in light of the similarities between her feed and Clayton's, if she was referring to someone else in her lengthy post. We'll let you know if we hear back.
Editor's note, 5:45pm: Lake doesn't have further comments.