On her debut album Pure Heroine, Lorde was always skeptical when it came to perfection: she criticized pretty cities, diamonds, the overblown love you hear about in chart-topping songs. Teenage ennui cloaked every inch of that record like a fog as Lorde set her songs at night, on tennis courts, highways, underpasses. She was always killing time for something bigger, a restless underdog trapped in a gray little suburban snowglobe, staring down an eternity of waiting.
This all sounded revolutionary when, in 2013, Lorde was just an actual 15-year-old New Zealander with the viral hit "Royals." Every one of her pop peers at the time made music that sounded like confetti bursting out of a canon: the cheerleader pop of Katy Perry, Taylor Swift's country-adjacent twee, whatever the hell Miley Cyrus was trying to do. Among them Lorde emerged as the class weirdo, tired of being told to put her hands up in the air, singing over nothing more than the clicks of a drum machine.
But on Melodrama, Lorde no longer sounds like a moody avatar for "real" teen girls everywhere. Four years later and she's an adult, albeit a young one, and her sophomore effort is a beautiful, surprisingly earnest coming-of-age record that catalogues her first big break-up. "What the fuck are perfect places, anyway?" she wonders. Throughout the album, Lorde leaps from cabs to parties to new lovers to cabs again in a desperate attempt to let go of the past. Sometimes it's as crazed and dramatic as you might imagine your own first break-up to be, as on the glorious opener "Green Light," with the chorus swelling with house piano. But there are the unvarnished lows too: on the album's self-reflective center "Hard Feelings," Lorde spits, "when you've outgrown a lover, the whole world knows but you."
Luckily the somewhat snarky girl who once began an album singing about how bored other people made her is still here, even as she grapples with fresh heartbreak. "We're the greatest, they'll hang us in the Louvre," she proclaims cheerily on "The Louvre," before clarifying: "down the back, but who cares, still the Louvre." Frequently on Melodrama, Lorde seems to delight in letting herself play the role of a theatrically insane, jaded ex when she wants to. She'll warn you not to fall in love with a writer on the piano ballad "Writer In The Dark," her voice sounding purposefully shrill, proclaiming, "I'll love you 'til you call the cops on me." At the end of "Hard Feelings / Loveless," Lorde swerves the track into a demented nursery rhyme directed at an ex. "Bet you wanna rip my heart out, bet you wanna skip my calls now," she sings, later warning that she'll mess your life up. "Well guess what? I like that."
The record is produced and co-written by Jack Antonoff, who is known for his infatuation with '80s pop and John Hughes movies, and whose credits include Taylor Swift's "Out of the Woods" and Sara Bareilles's "Brave." But while a song like "Greenlight" unmistakably possesses his touch, Antonoff thankfully does not steamroll the dark, simple musical style Lorde's known for, nor does he make her sound like every other pop idol he's worked with. You can definitely hear the Lorde of Pure Heroine closest when she's singing about "d-d-d-dynamite" over blown-out layers of militaristic snare drum on "Homemade Dynamite." But otherwise the production here, which plays like a swipe of glittery lipgloss over Lorde's previous minimalism, is a welcome, expected expansion for a singer who seems to have outgrown her gothic sensibility.
G/O Media may get a commission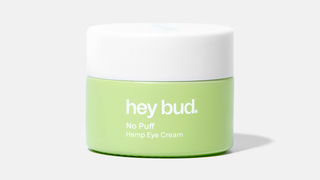 15% off
Hey Bud - No Puff Hemp Eye Cream
Right now being a pop artist means constantly re-inventing yourself not just through albums but through singles too. In this arena artists, particularly women, are expected to be constantly fluid, genre-phobic, experimenting but still authentic. The album format itself is slowly dying as sales dwindle (they dropped 13.6% last year alone); rather all a pop star needs is one hit song to make her album successful streaming-wise, and so artists dish out 18 to 20 track records with no clear vision or voice. And releases that are rich with collaborations with a different producer for every song is the norm, as artists jump from trend to trend on a single album in hopes of making a hit that sticks with people.
Considering all of this, I felt surprisingly worried for how Melodrama would end up. Lorde is a musician who emerged with such a strong point of view and sound that people initially questioned if she was older than her stated age. The pressures of constant shapeshifting are hard enough on an artist, let alone for those put on a pedestal for being a wunderkind. Would Lorde lose herself in the process?
Not a chance. Lorde blew off musical pop charts mastermind Max Martin's suggestion that "Green Light" was "incorrect songwriting." She actually made a record that was 11 tracks long, just one producer, no calculated pop makeover needed. And why would she need to? Melodrama is an admirably confident album in 2017, a reflection of the everyday ways in which young women transform through discovering love and loss for the first time. Lorde is still a girl in transit, scrubbing off make-up layers and shedding lovers like clothes, forever in the back of a cab to some new experience that feels absolutely magical when you're just 20 years old. And how lucky we are to be in those cabs with her.