Late last week, New Mexico Governor Susana Martinez found herself in hot water after an audio recording of her trying to end a noise complaint became public. Police were called to the hotel where Martinez was hosting her staff holiday party after the front desk complained about noise and someone throwing bottles from the balcony.
In the recording, Martinez identifies herself and tells the dispatcher that there's no need to send the police. USA Today reports:
The governor told a dispatcher she was in the room with her disabled sister and six others.

"We are eating pizza and drinking Cokes, and whoever was throwing bottles is not there, hasn't been there for like six hours," the governor said, while explaining that she had been in the room for only two hours.
In the recording, Martinez also demands to know who lodged the complaint, "It's public record. Give it to me," she says to the responding officers. The officers refused to answer. In a statement Friday night, Martinez apologized for her actions. The statement read:
There was apparently a party in a hotel room earlier in the night that was disruptive. Someone was also throwing snowballs from a balcony. None of that should have happened and I was not aware of the extent of the behavior, until recently. And that behavior is not acceptable.
G/O Media may get a commission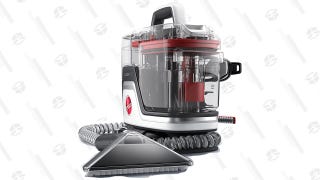 Save $10
Hoover CleanSlate Plus Carpet & Upholstery Cleaner
Now, in a new recording released by the Santa Fe police today, it looks like Martinez was pretty drunk; the Associated Press describes Martinez's speech as "halting and lilting," as she attempts to describe to the police the events of her holiday party.
"Five hours ago there was somebody that said, 'Get out of the room, do not be doing what you are doing,'" Martinez can be heard saying. "There were bottles being thrown over. And we said get the hell out and stop.

"But now the complaint is bottles are being thrown over the balcony and I am in there. There are no bottles being thrown over."
So Martinez was lit and so was her "pizza" party. And that snowballs excuse sounds like something a high schooler would say to her parents after trashing the living room. Meanwhile, Martinez's political opponents are seizing on the opportunity, accusing the governor of misusing the police and abusing her power.
Image via AP.