It seems impossible that there was a time before Oprah; Oprah seems an eternal and immutable fixture of the American media landscape. But in fact as of September it will have been thirty years since The Oprah Winfrey Show went nationally syndicated and launched itself and its host into the pop-cultural stratosphere.
Chicago magazine has an oral history of that first nationwide season, which is full of context and interesting tidbits. Winfrey was already a successful up-and-comer in the Chicago media scene, and she'd already made her Academy Award-nominated appearance in The Color Purple. But it sounds like the sheer enormous scale of the show's success right out of the gate came as a pleasant surprise.
As for how it happened, Winfrey explained the story selection process: "When we'd have our meetings, [we'd ask], 'What were people talking about at the hairdresser this week? What are people talking about in the restaurants you're in? What are people talking about in your family?'" Executive producer Debbie DiMaio added:
A lot of things and people had to come together to make this show successful and national, but there's one group that always kind of gets overlooked, and that is the Chicago audience. At the end of every show, we would make an announcement on what [topics] we were doing. "Are you thinking about leaving your husband?" "Is your weight causing you problems?" And Chicago women picked up the phones and called us. We really couldn't have done it without them.
The piece also includes her apparently understated reaction to a famously negative Spy piece that went in on Oprah's sense of a grand destiny:
Oprah read the Spy article in the office. The WLS PR woman brought in a copy. And Oprah's reaction—ours too—was that it was just so over the top we did not discuss it. Minutes after reading, Oprah wrote "I forgive you" on her personal stationery and asked me to mail it to Spy, which I did the same day. Spy published those three words in their [March 1987] edition under letters from readers. Generally speaking, Oprah didn't get caught up in negative press and wouldn't change her MO based on observations from [critics] eager to find fault with what we were doing.
G/O Media may get a commission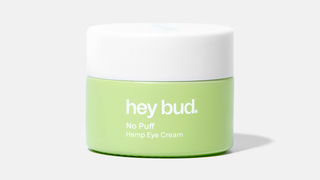 15% off
Hey Bud - No Puff Hemp Eye Cream
Chicago also talked to the piece's author, who admitted: "The thing is, everything she said about what she was going to be—it was all true."
Also covered is the show's famous 1987 trip to Forsyth County, Georgia; "Roughly two weeks prior to the taping, Hosea Williams, an Atlanta city councilman and civil rights activist, had led 12,000 to 20,000 marchers in a protest in Cumming against Forsyth's history of segregation," the piece explains. There were apparently a number of publicly racist whites all too willing to talk to Winfrey, who told Chicago she walked into the situation with a very specific plan: "My goal was to put ignorance on its most blatant display so that people could see for themselves how ridiculous it is." But it's interesting to get a behind-the-scenes glimpse at the episode. Said Roosevelt Cartwright, Winfrey's makeup artist:
The white people loved Oprah in Forsyth. I remember this woman stood up [during the show] and told Oprah [paraphrasing], "Oprah, you're no nigger. But the rest of them are niggers and we don't want them in our county." I moved to Atlanta later and I go to Forsyth now, and it's totally different.
It's worth watching this clip from OWN's history of the show, broadcast in its last season, which includes footage from the Forsyth County episode. As much as anything in the Chicago piece, it demonstrates what made Oprah one of the single most successful television personalities of all time. Even tackling the toughest subjects, she's compelling and absolutely unflappable.