Here's a properly creepy image to get you into the spirit of Halloween: From 1854 to 1941, London had a railway line just for the transportation of the dead and the mourning. It was appropriately named the London Necropolis Railway—the most ominous ticket stub imaginable.
At the BBC, Amanda Ruggeri—who previously wrote about the London Underground and its supposed relationship to the city's ancient plague pits—explores the history of this very real railway, which was dedicated to ferrying the deceased (as well as anybody who missed them and wanted a visit) from the city to Surrey's Brookwood Cemetery.
By the middle of the 1800s, London's burial grounds were gruesomely close to bursting at the seams, necessitating the creation of suburban cemeteries like Brookwood. But they had to make them practical for Londoners to use—hence, the railway.
Most families had their loved one picked up by a horse-drawn hearse. The funeral procession would end at the station; there, the coffins would be lifted into elevators that would carry them up to the platform level and onto the train.
The train — outfitted with leather straps to keep the coffins secure — would carry both the mourners and deceased. Fares were capped by the Act of Parliament that had established the railway, and remained constant throughout the railway's lifetime: six shillings for a return first-class ticket (in 1854, this was worth about £25 in today's terms), down to two shillings (about £8) in third. For the dead, it cost £1 in first class and 2s 6d in third.
G/O Media may get a commission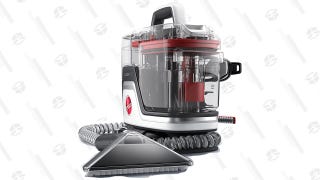 Save $10
Hoover CleanSlate Plus Carpet & Upholstery Cleaner
You hopped off at one of two stations, depending on whether you were Anglican or Non-Conformist. (After the burial you could have a short celebration back at the station, "complete with home-cooked ham sandwiches and fairy cakes," before catching the return train.)
While the train hauled 2,000 bodies at its height from 1894 to 1903, it never really became as popular as its creators hoped. "Most people aspired to being buried near where they lived and worked," said historian John Clarke. "The idea of being buried nearly 30 miles out of central London — that was quite a choice to make." Eventually the Blitz destroyed most of the original station and it was simply shut down.
Unfortunately, beyond noting that the line had its own train stock because the idea of carriages that made trips carrying the living and the dead creeped people out too much, Ruggeri does not delve deeply into the decor of the London Necropolis Railway, leaving us to speculate exactly how goth the interiors were.