On Monday, London mayor Sadiq Khan announced that body-shaming advertisements would be banned from the city's tubes and buses. Khan's decision is a follow-up of a promise he made while campaigning. The campaign promise was in response to the controversy and subsequent debate surrounding an advertisement for a weight loss supplement.

About a year ago, an advertisement for Protein World, featuring a model wearing a yellow bikini and the text "Are you beach body ready?" on London's underground provoked a backlash on social media. In response to the hard-to-miss ad, some 70,000 people signed a Change.org petition asking that the Transport for London, the agency that oversees advertisements on public transportation, reconsider its policies. There was also a protest in Hyde Park. Protein World did itself no favors during the debate, The Guardian reported that the brand's Twitter took a "robust approach to its critics," tweeting about motivation under the hashtag #getagrip:
It also retweeted former Apprentice contestant Katie Hopkins who wrote: "Chubsters, quit [vandalizing] Protein World ads and get your arse running on the road. Feminism isn't an excuse for being fat. Eat less, move more."
There were also some fun tweets about feminism and the brand's right to advocate for fit lifestyles or something.
G/O Media may get a commission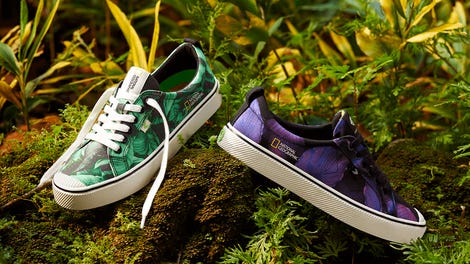 New New New
Cariuma + National Geographic
Regardless, the controversy was good for business; Protein World told The Guardian that sales of its weight loss products were up. But alas, despite its efforts to protect the "fit shamed," Protein World, and other companies like it, will no longer be able to use London's public transportation to promote its products.
"As the father of two teenage girls, I am extremely concerned about this kind of advertising which can demean people, particularly women, and make them ashamed of their bodies," Khan said in a statement. He added:
"Nobody should feel pressurised, while they travel on the Tube or bus, into unrealistic expectations surrounding their bodies and I want to send a clear message to the advertising industry about this."
According to Quartz, Khan has asked the Transport of London and its advertising partners to "review ads that could potentially negatively affect people's images of their bodies." The new review policy will go into effect in July.
The new guidelines seem part of a larger trend in Europe, at least, to better limit the seeming omnipresence of Photoshopped bodies and unnecessarily dumb advertisements. In 2009, French politicians introduced a bill that would put a "health warning" on heavily Photoshopped photographs of models, akin to warnings on cigarettes in alcohol. Last year, the country banned "excessively thin" models on the runaway.
And this isn't the first time that the UK has intervened in the body positivity/advertisement debate. Last year, the Advertising Standards Authority, the same watchdog group that deemed Protein World's ad "not offensive," banned a YSL ad for featuring a "unhealthily underweight" model. ASA also banned a Gucci ad earlier this year for similar reasons.
---
Image via Twitter.