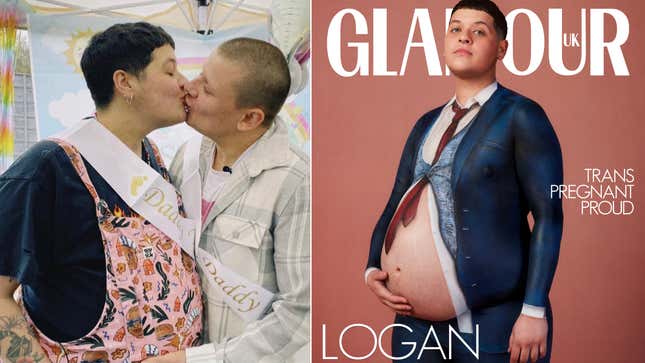 Logan Brown, a trans man, is British Glamour's June Pride Month cover star, revealing his pregnancy to the world with a stunning photoshoot and a deeply vulnerable interview. Brown, a British writer and social media personality who first shared news of his pregnancy in November, spoke with Glamour roughly two weeks before giving birth to his newborn daughter, whom he shares with partner Bailey Mills, who is nonbinary and a popular drag queen on TikTok.
The Fight For Abortion Rights has Reached New Heights
The cover comes as anti-trans legislation is spiking across the U.S.; trans people are increasingly under attack in the U.K. and around the world; and dehumanizing "debates" about inclusive pregnancy language abound. As advocates and medical experts have long pointed out, women aren't the only people who can get pregnant: Trans men like Brown, non-binary people, and other people with uteruses can and do become pregnant, too—no amount of right-wing nastiness or transphobic J.K. Rowling rants can erase this medical reality.
Brown told the magazine that he became pregnant shortly after going "off testosterone" due to "some health reasons," and that the pregnancy had initially been difficult for him to accept. He told Glamour that "everything, all my manlihood that I've worked hard for, for so long, just completely felt like it was erased."
"It was really hard because how do you tell your partner, 'Oh, I'm pregnant, but oh, I'm also your boyfriend as well,'" he said. "It's just something that you just don't say as a man." But what changed Brown and Mills' outlook, he said, was realizing, "I'm never gonna get this opportunity again to—as a queer couple—have a baby that's biologically both ours… Eventually, something just clicked." He added, "I had to get to the point of being confident with who I am and being a pregnant man."
Brown recounted having mixed experiences with the care he received throughout his pregnancy. At one hospital, he was "misgendered by staff," and said no one checked in on his feelings throughout his appointment there. "Being pregnant, in general, is really, really difficult. Then add me being trans," he said. Some midwives were more understanding of Brown's experience than others, but he notes, "it shouldn't be optional for [National Health Service staff] to have that sort of training." He continued, "It should be mandatory, because we do exist."

Other trans men and transmasculine people have spoken out about their difficult, complicated experiences with pregnancy and seeking reproductive healthcare. Kara Mailman, a transmasc reproductive justice activist who uses they/them pronouns, told me in 2021 of their abortion that they've found "it's harder to include trans people in the reproductive justice movement, when a lot of trans people who have had abortions don't feel they have a space." In sharing his story and being open about the highs and lows of his experience with pregnancy, Brown is helping to create that space.
Since giving birth via C-section, Brown said his family has been buoyed by love. "My daughter will be able to grow up knowing that she'll always be loved and accepted for whoever she is," he told the magazine. Still, Brown didn't minimize the attacks he's faced over the course of sharing his relationship and pregnancy with the world. In particular, one TikToker who's quite well-known, he claims, has bombarded his posts with the comment, "Men can't get pregnant," and "got all their followers to come over onto my Instagram and harass me."
"I spent so much time feeling shame and being hard on myself until I thought, 'You can enjoy this process or make it really difficult for yourself,'" Brown said. "Now, I get to bring a child up to know that she can be authentically herself and love whoever she wants; that's really powerful for me."
He's currently writing an autobiography and a children's book called My Daddy's Belly. When he was coming to terms with his trans identity during adolescence, "There was no information out there for me to relate to," Brown told Glamour. Now, his books—and this iconic cover—will be a resource for the trans youth of today and tomorrow.