People have been hunting for the Loch Ness Monster since the 30s, but researchers exploring via underwater drone have turned up more than most: a movie prop replica of the creature, lost to the depths in 1969.
Well, that's something, at least.
The New York Times reports on the find from the team at the Loch Ness Project. In the spirit of "sure, why not," they were actually looking for "Nessie's Trench," a large, mysterious crevasse that a tour boat captain claimed to have discovered via sonar back in January. Instead, they found a waterlogged piece of movie history.
Researchers found the 30-foot prop, made for the 1970 Billy Wilder film "The Private Life of Sherlock Holmes," 180 meters down on the bed of the lake in April. It had sunk during production in 1969 and a new Nessie was created for the film, which starred Christopher Lee and Robert Stephens.
"We have found a monster, but not the one many people might have expected," lead researcher Adrian Shine told the BBC. He explained:
"The model was built with a neck and two humps and taken alongside a pier for filming of portions of the film in 1969.

"The director did not want the humps and asked that they be removed, despite warnings I suspect from the rest of the production that this would affect its buoyancy.

"And the inevitable happened. The model sank."
Check for an on original cut of The Magnificent Ambersons while you're down there, would you?
G/O Media may get a commission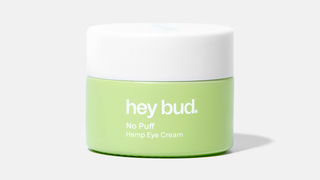 15% off
Hey Bud - No Puff Hemp Eye Cream
Shine, by the way, is skeptical that Nessie is really swimming around out there. He's just very curious why in the hell all these people keep saying they've seen something. Via the New York Times:
His research, named Operation Groundtruth, has pivoted from investigating the water to investigating the observer, studying human perception and whether we should believe what we see with our own eyes.

He doesn't believe in the monster, he said. But he and many others remain fascinated by the question of what "1,000 sober and honest people" could be thinking or seeing when they claim to spot large animals in the water.
Because humans are deeply suggestible creatures? Or maybe there's really a wily sea serpent cruising around rural Scotland. Could be either.