If you feel shockwaves emanating from the Midwest, that's because Minneapolis is right in the middle of a Very Serious Local News Emergency. The ABC affiliate received a tip from their unnamed but presumably very credible law enforcement sources that Mayor Betsy Hodges was seen with a "known criminal," flashing gang signs. That is all true, if by gang signs we mean "pointing at each other," which is what Betsy Hodges and the young man in the photo were actually doing.
The incident has been dubbed Pointergate, or what Daily Kos contributor Shaun King refers to as quite possibly "the most racist news story of 2014." Let's take a quick look at the shocking photo that set it all off, as captured by KSTP's crack anchors Bill Lunn and Leah McLean:
Law enforcement sources, Lunn says, "want to know why the mayor would take a picture with a convicted criminal while he and the mayor flash gang signs." Officers, he adds "think the mayor has put the public and police at risk."
Field reporter Jay Kolls cuts in there, to let us know that Hodges and the man are displaying "what law enforcement agencies tell us is a known gang sign for a Northside gang." They claim the man has several recent drug and gun convictions, although he's on probation.
Kolls also spoke to a retired cop, Michael Quinn, who told him, "She's putting cops at risk," adding, "The fact that they're flashing gang signs back and forth at each other, showing solidarity with the gangs, she's legitimizing what they're doing. She's legitimizing these people that are killing our children in Minneapolis."
G/O Media may get a commission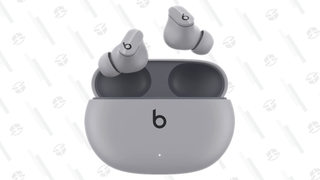 Or... she's.... pointing. The hashtag #Pointergate has blown up on Twitter, and another Daily Kos reporter, David Waldman, has responded to the controversy by merrily digging up reporter Kolls' own "criminal record," namely a DUI arrest from 2007. (Correction: Waldman has emailed us to say that Twitter user Beymonce was the first to find Kolls' DUI.)
Poynter points out that the man in the photo with Hodges works as a canvasser for a local nonprofit. In September, while out collecting signatures outside a grocery store, he was tackled and handcuffed by a police officer. The story made the news, especially given that the man was released at the scene and not charged with anything, and that the officer, Tyrone Barze Jr., allegedly threatened to shoot several witnesses who were protesting his treatment.
Nekima Levy-Pounds, a law professor and columnist, calls the Pointergate story "appalling" and theorized that the police are angry with the mayor over her support for a body camera pilot program in the department. She's also supporting an audit of the department by the U.S. Department of Justice; a draft report that the mayor saw, she wrote in an open letter to the community, showed that "commonly reported types of officer misconduct are lack of respect, unprofessional language or tone, and lack of cultural competence and sensitivity."
That's probably all just a coincidence, though. The cops probably just really, sincerely believe that the mayor's in a gang. KSTP hasn't yet responded to any of the criticism over their report.
Image via Laurelai Bailey/YouTube