Men bring status and wealth, women bring... discernment, also known as hotness. At least that's the message drawn from DateHarvardSq, a new dating site that pairs "Harvard men" with "discerning" ladies. None of whom, of course, went to Harvard themselves.
It's simple: women pay to get a set of matches from alleged Harvard men, who do not pay for the privilege. From the site's FAQ:
See, ladies? It's all about your satisfaction. Harvard bluestockings (like, um, me) — sorry about the frustration! You can go hang out with the sad unmarrieds like (former Harvard Law dean) Elena Kagan.
Although the geniuses behind the site have not been brave enough to put their real names on it, I'm going to take a wild guess that this came out of the Business School. Efficient markets in all things!
G/O Media may get a commission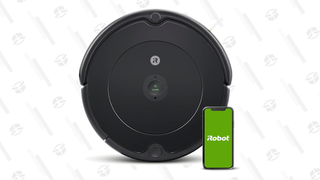 35% Off Black Friday Deal
iRobot Roomba 694 Robot Vacuum
All of the featured profiles have are current and former business school students, many of them international. The same is true of the "featured couples," though since the copyright filing for the site is dated June 2010, we're going to take an even wilder guess that the "featured couples" on the site met through other methods.
That said, since we're meant to take these as aspirational examples, let's see what the ideal is here. The women include a model and a former Miss Malaysia Universe....but wait, one of the women went to Brown! That's okay, it doesn't really count as an Ivy.
DateHarvardSq [Official Site]