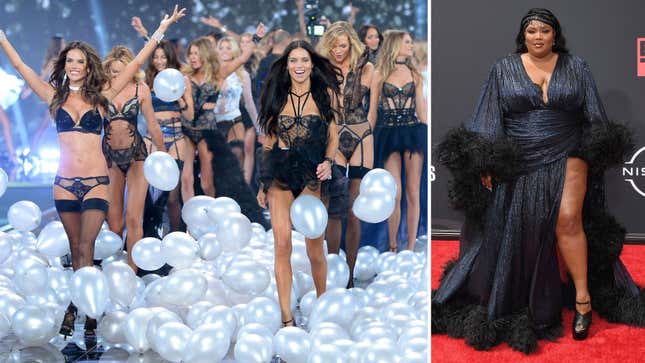 Victoria's Secret, which has been blessedly out of the cultural conversation for a while, unfortunately appears to be back. On its 2022 earnings call on Friday, the company announced that its infamous fashion show will return this year, for the first time since 2019, when Victoria's Secret said it was choosing to focus more on "digital advertising"—carefully side-stepping its exclusionary (read: thin and overwhelmingly white) reputation, which these "fashion shows" helped solidify.
Though its recent ad campaigns have included more body and racial inclusivity, Lizzo—who has become one of the most famous people in the body positivity arena—remains skeptical. "This is a win for inclusivity for inclusivity's sake," she tweeted on Sunday, in response to a video of the company's 2023 Valentine's Day campaign. (The commercial is exactly what you'd expect: professionally hot women of various demographics wearing cheap-looking red satin and lace.)
"But if brands start doing this only because they've received backlash then what happens when the 'trends' change again?" Lizzo added. "Do the CEOs of these companies value true inclusivity? Or do they just value money?"
I think we all know the answer to that.
Companies' recent decision to cast plus-size models in their ads is reminiscent of corporations' rush to put rainbows on their logos during Pride Month to show their "support" for the LGBTQ+ community, and in many cases, distract from some of the more unsavory elements of their reputations. This "rainbow capitalism" prioritizes profit over people, showing outward support to lure in customers without any related material change.
As Lizzo pointed out, the identities of marginalized people aren't "trends" that should be profited off when they're everywhere, only to be ignored—or even further marginalized—when they're no longer in style. And for a brand like Victoria's Secret, which has touted a very specific and deeply exclusionary brand of femininity that put them on the defensive in the first place, I'll eat my shoe if their attempt to be inclusive produces anything meaningful in the longterm.
But those over at Victoria's Secret are insisting that the company's efforts are in earnest. A spokesperson for Victoria's Secret & Co. told People on Saturday that the company is dedicated to "always innovating and ideating in all spheres of the business to continue to put our customer at the center of all we do." Hmm. Nothing says "trust us, we've changed" like promising that you're "ideating." (If they can articulate what exactly those changes in "all spheres of business" look like, my DMs are open.)
The statement continued: "As we've previously shared, our new brand projection and mission will continue to be our guiding principle. This will lead us into new spaces like reclaiming one of our best marketing and entertainment properties to date and turning it on its head to reflect who we are today," which suggests the return of the Victoria's Secret Fashion Show won't look like Taylor Swift's 1989-era Squad. But they declined to specify anything upfront, saying merely: "We're excited to share more later this year."
This overly vague corporate language is so devoid of meaning that it just creates an echo chamber in my mind dominated by Lizzo's skepticism. So at least for now (unless the company can somehow prove its intentions are a product of genuine reflection on its damaging business model—a girl can dream! Or, sorry, ideate), I will be joining her in declining to applaud them for doing the bare minimum.