Dodai here. I am watching NBC, where Tom Brokaw and Brian Williams are providing the commentary. BriWi and TomBro have voices to soothe a frazzled and excited soul this morning! The liveblog, after the jump.


12:40 Ok, I am logging off - thanks guys!
12:38 Oh, say — does that star spangled banner yet wave? O'er the land of the free — and the home of the brave.
12:36 SAY AMEN.
12:34 If anyone wants to read a full transcript of Barack Obama's speech, ABC has posted it here.
G/O Media may get a commission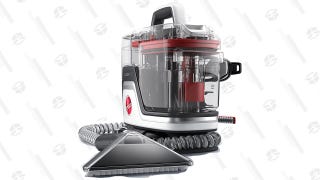 Save $10
Hoover CleanSlate Plus Carpet & Upholstery Cleaner
12:32 I don't know how these people are not exhausted. Now Prez Obama has to go inside and fix the damn country, though.
12:28 Elizabeth Alexander: "I know there's something better down the road."
12:27 It ain't over! There's poetry!
12:25 Well, folks. Your new President hath spoken.
12:24 "IN THIS WINTER OF OUR HARDSHIP — LET US BRAVE THE ICY CURRENTS...."
12:22 "WE HAVE DUTIES TO OURSELVES, OUR NATION AND THE WORLD."
12:20 "WE WILL EXTEND A HAND IF YOU ARE WILLING TO UNCLENCH YOUR FIST"
12:17 YAY! Commenter Khrushchev points out that the White House Official Site has a new face!
12:16 "WE REJECT AS FALSE THE CHOICE BETWEEN OUR SAFETY AND OUR IDEALS."


12:11 "OUR JOURNEY HAS NEVER BEEN ONE OF SHORTCUTS"
12:10 "HOPE OVER FEAR"
12:08 Quiet you guys the new prez is talking. Heathcare is too costly. The ways we use energy is funding the terrorists, you guys. And there's a "sapping of confidence" across our land.
12:04 He stumbled! Over the oath! But grinned!
12:02 Yo Yo Ma is there. And Itzhak Perlman. Basically: everybody.
11:56 Biden is being sworn in RIGHT NOW. Against all enemies foreign and domestic!!!
11:54 Well. Okay then. Barack SMILING!
11:53 Do we think Aretha had that hat in her closet, or was it a new and special purchase?
11:53 ARETHA!
11:51 Why does Rick Warren say "Malia" and Sasha" like they are some weird African names he has never heard of?
11:49 Joe Biden looks like he is thinking about something else.
11:48 Rick Warren prays, but I do not.
11:45 Dianne Feinstein: "The freedom of a people to choose its leaders is the root of liberty."
11:44 "Ladies and gentlemen, please take your seats."
11:43 "BARACK H. OBAMA" And the crowd goes wild.
11:42 Nancy Pelosi and Dianne Feinstein…
11:41 TomBro is talking about barrios, what?
11:38 Lester Holt thinks Barack Obama walking alone to the podium is a "lonely moment." TomBro is talking about fixing the economy, and these unprecedented issues.
11:37 Barack Obama. Red power tie. IT IS ON.
11:36 Just think for one minute what it would be like to be a Secret Service person today. Your entire body is ONE NERVE.
11:35 Cheney is basically Professor X from X-Men now.
11:34 Cheney in wheelchair! I hate to LOL, but seriously.
11:32 Anna says that on MSNBC you can hear people singing "Hey hey, goodbye" for W.
11:31 President Bush. With posse. Oh! Michelle looks good. Is she bling-blingin'??
11:30 Lester Holt reports that things may be running 16 minutes late.
11:29 Epic, EPIC shots of the crowd. And Malia is taking pictures! Love her. BriWi points out that she has "better than average angles."
11:28 Tom Brokaw is pointing out that Michelle's brother is wearing Princeton colors.
11:27 Okay Laura Bush's gray looks better in the sunlight, okay?
11:26 Hey do not shoot Sasha through the bulletproof glass, she looks like she has a sixhead!!
11:25 Laura Bush in what others would call "dove gray." I think it's rather somber.
11:24 Michelle's mom has an air of awesomeness.
11:23 Malia and Sasha! Malia is wearing a blue coat with a cinched waist and Sasha is wearing salmon-y pink. THEY ARE TOO CUTE.
11:22 BriWi says there are "snafus" at the entrance gates and "unwieldy crowds." Noted.
11:22 Bush daughters in the house.
11:21 Bill Clinton, woo! Hillary, woo!
11:20 Jimmy Carter just walked out, and now George HW and Barbara. Is Babs' purple scarf a nod to bipartisanship, or is my TV wonky?