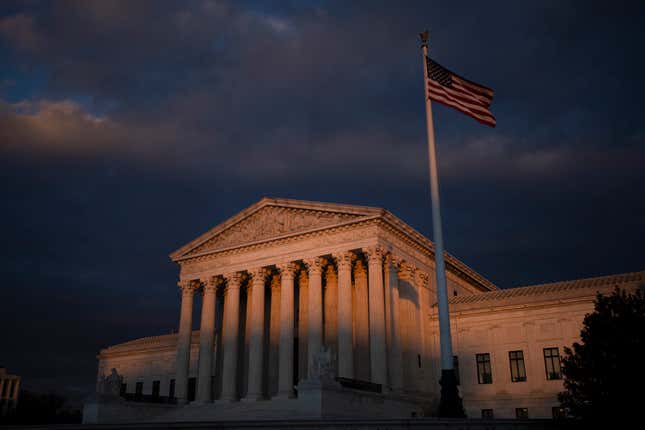 The conservative-packed Supreme Court will hear arguments in the most consequential abortion case in decades this morning. At the heart of Dobbs v. Jackson Women's Health Organization is a 15-week abortion ban passed by the state of Mississippi in March 2018. But because of the machinations of the Supreme Court, the arguments are challenging the legality of abortion as we all know it.
Does Your State Have an Abortion Trigger Law?
The justices do not like being painted into a box with only either-or choices, but that is exactly what the state of Mississippi has asked these nine lawyers to consider. The question at hand is "whether all pre-viability prohibitions on elective abortions are unconstitutional." (Chief Justice John Roberts wrote in an opinion in June 2020 that he sided with abortion precedents because he wasn't being explicitly asked to rule on the "constitutional validity" of abortion laws. It all has a real you made this bed, sir energy to it.)
The Center for Reproductive Rights's Julie Rikelman will argue for Jackson Women's Health Organization, the last abortion clinic in Mississippi, and U.S. Solicitor General Elizabeth Prelogar will represent the U.S. government. Scott Stewart, the state solicitor general, will defend Mississippi's abortion ban.
Lingering in the air of the building etched with "Equal Justice Under Law" is last month's arguments for S.B. 8, the six-week abortion ban in Texas. It's been more than 80 days since the cruel law went into effect, sending abortion patients out of state in droves. Between the arguments in Dobbs and S.B. 8, abortion clinics are in a holding pattern, bursting at the seams with too many patients for too few appointment slots, wondering if trigger bans (laws written to outlaw abortion if Roe v. Wade falls) will go into place.

Jezebel's Caitlin Cruz is reporting from the steps of the Supreme Court in Washington, D.C., and Susan Rinkunas is following along from New York.
8:54 am: The rally on the steps of the Supreme Court has begun. It's being organized by Liberate Abortion, a new collective of 117 pro-abortion groups announced this week. Nancy Northup, president and CEO of Center for Reproductive Rights, spoke before heading into the building for arguments. "Today will be the fourth time the center for reproductive rights lawyers have argued before the Supreme Court to protect abortion rights in six years," she told a passionate crowd of activists. "Four trips to the Supreme Court in six years is too many."
9:42 am: Members of Congress call for federal abortion protections Democratic Reps. Diana DeGette (CO), Barbara Lee (CA) and Pramila Jayapal (WA) spoke to the pro-abortion activists gathered. Lee has previously talked about getting an abortion before Roe was decided and chairs the Pro-Choice Caucus in Congress with DeGette. Jayapal became emotional when recalling her decision. "The consequences of that choice are the things we live with," she said. "This isn't about healthcare. This is about controlling our bodies...Do not criminalize me and millions of women like me across the country. Do not criminalize those who help us. Do not criminalize the clinics and the doctors," she said. All speakers mentioned the Women's Health Protection Act, which would codify the right to abortion in federal law, but only Jayapal declared that repealing the filibuster is critical to the fight for abortion. WHPA has passed in the House, but is idling in the Senate. Senator Richard Blumenthal (D-CT) immediately reminded the crowd that the right to privacy was granted by Supreme Court cases from Connecticut. He said it's time to pass the WHPA in the Senate as well.
10:16 am: In his opening statements, the male attorney representing Mississippi, Scott Stewart, asked the court not just to uphold the state's 15-week ban, but also overturn Roe and Planned Parenthood v. Casey. Stewart also referred to fetuses using female pronouns, which aligns with the anti-abortion movement's effort to claim that abortion is anti-feminist and harms women. Some court watchers suspect that Justice Amy Coney Barrett will write the majority opinion in the case upholding the law as if to shield the court from criticism because a woman restricted reproductive rights.
10:30 am: Biggest applause outside for Rep. Ayanna Pressley (D-MA) as oral arguments continue inside the building: "Nobody's free until everybody's free." For the first time in 40 years, the House passed a budget without the Hyde Amendment, which that outlaws federal dollars from being spent on abortion.
10:49: While Justice Sotomayor was wiping the floor with Stewart for ignoring the fact that childbirth is 14 times riskier to pregnant people's lives than abortion, Justice Samuel Alito decided to butt in with an eye-opening question: "Are there secular philosophers and bioethicists who take the position that the rights of personhood begin at conception, or at some point other than viability?" Alito is hinting at the end game here, which is personhood under the 14th amendment, which would outlaw all abortions, imperil fertility treatments like IVF, possibly outlaw certain forms of birth control, and criminalize pregnancy outcomes like miscarriage and stillbirth.
11:55 am: Chief Justice John Roberts argued that allowing an abortion ban at 15 weeks was not a "dramatic departure" from the current standard of allowing states to ban abortion at viability, which is about two months later. He also noted that the US shares the viability line with countries like China and North Korea, a right-wing dogwhistle. It's technically true that many countries restrict abortion earlier than the US does, but many of those same countries have robust safety nets including universal healthcare that covers birth control and abortion, several months of paid parental leave, and childcare subsidies. Julie Rikelman, the attorney for the Mississippi clinic challenging the ban, told Roberts he was wrong.
12:10 pm: The lawyer for Mississippi closed out the arguments with a short rebuttal in which he said that it's OK for the court to overrule Roe because people can give up their newborns under safe-haven laws, and because effective contraceptives are now widely available and are less expensive than an abortion. Nevermind that Republicans also oppose requiring insurance companies to cover birth control. Helpful! It sure sounded like the court will uphold the 15-week ban and maybe even overturn Roe, but we don't expect a decision in this case until late June 2022, about four months before the midterm elections.