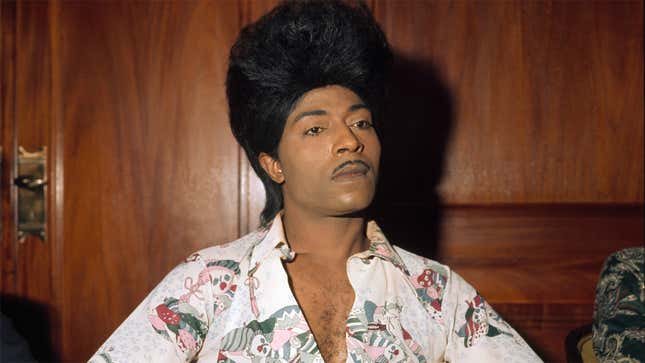 Superficially, Lisa Cortés' Little Richard: I Am Everything (in theaters and streaming on Friday) might look and feel like a standard rock doc. Indeed, its purview is a cradle-to-grave portrait of its subject, rock pioneer Little Richard, and it's populated with music ("Tutti Frutti," "Long Tall Sally"), archival footage, and talking heads pontificating on the greater implications of Little Richard's cultural contributions. However, I Am Everything has what few rock docs have—an inimitably flamboyant subject, for one thing, who not only had a direct hand in the formation of the genre of rock and roll but also revolutionized the rock star as an icon. The pacing, too, is uncommonly frenetic, as if tailored to mimic one of Richard's sprightly piano lines, and the academics' commentary is virtually uniform in its clarity. There's not a stuffy blowhard in the bunch.

Dirt Bag of the Week: Katharine McPhee
Via Zoom last week, Cortés told Jezebel that one of her intentions was "to decolonize the rock doc." She elaborated: "My goal was to, yes, tell the story of an icon, but also to have moments of magic and revelation and to break through the norms about how you're supposed to tell that story." One of her ways of achieving this was to tightly curate her talking heads.
"Who tells a story is important to me," said Cortés. "I was very intentional with the scholars that I chose, the ethnomusicologists. They're a combination of Black and queer scholars who are bringing an intimate connection to their commentary and analysis of Richard. And they're also at times introducing their own personal thoughts. So it takes them from just being on the academic pedestal that they so brilliantly sit upon—they have a human connection with his story, and I think that broadens the conversation."
Cortés said she's been a fan of Little Richard's since she was a kid, but the impetus to make a documentary about him kicked in upon his 2020 death, when she realized that a fleshed-out story of his life had not yet been told. "There's more to him than, 'Shut up,'" said Cortés of the term her subject helped to popularize. "There's more to him than being a comic foil. There's somebody who is very rich and deep in their contributions to music and to culture."
The vast array of archival footage present makes it clear that Little Richard: I Am Everything is in conversation with past portraits of the artist. In particular, Richard's fraught relationship with his queerness is a focal point, from his history with drag (using the name Princess Lavonne), to the wild orgies behind the scenes of the Chitlin' Circuit, to his renouncing of his libidinous past and turning to gospel music after spotting what he described as a fireball outside his window on a flight (it's believed that what Richard actually saw was the Russian satellite Sputnik). This side of Richard's past, which he selectively self-reported, is further filled in via people who knew him at the time, like Sir Lady Java, who made a name for herself as a "female impersonator" in nightclubs in the '60s.
"Lady Java is the friend who actually speaks to this period of queerness that Richard never [discussed]. He wasn't out then," said Cortés. "When Richard goes, 'Oh, yeah, I was one of the first gay people I know,' he never declared himself. But Lady Java attests to that part of his journey."
Little Richard used his queerness, the documentary argues, to make himself less threatening to the general public, which was crucial given his high concentration of white female fans in the '50s—as one of the experts points out, the Little Richard craze occurred contemporaneously with the lynching of Emmett Till. It's wild that male femininity was considered marketable during a time when queerness was vilified in mainstream culture when it was recognized at all, but that speaks to the strangeness of our cultural history. Richard's eventual renouncing of his sexuality was complicated by his continued flamboyance (not to mention his sexual relationships with women like Lee Angel, who claims in the doc that they were the loves of each others' lives). As New York University professor Jason King explains, "He was very good at liberating other people with his example. He was not good at liberating himself." Sir Lady Java recalls her reaction to Little Richard's pronouncement of being formerly gay: "You're not strong enough to take it. I understand." The film extends to Little Richard more empathy than he did himself or his people.
"What was important for me is that this not be a documentary that's about hagiography. It'd be very easy to go, 'He's the first to do this. He's the first to do that. Isn't it great?'" said Cortés. "I gave him the mic. I let him tell his story, even if I personally disagree with things that he said. But that's what he said. That was his truth."
"You know, it is the challenging moments that really do give you this call for empathy, because you see how difficult it was for him to ride this roller coaster," the director added.
It didn't get easier. The back half of Little Richard: I Am Everything is largely concerned with his frustration for not getting proper respect or credit. It is a peculiar condition to be, on one hand, an icon, and on the other, unsung, as the doc vociferously argues he was. As a result of a broken contract, Richard forfeited his profits and watched as other white performers like Elvis Presley and Pat Boone made money from his creations. He never won a competitive Grammy and, when onstage at the 1988 ceremony to hand out the Best New Artist trophy, made a big show of the Recording Academy's lack of respect for his pioneering genius (in his charming, joking-but-really-serious way).
As Georgetown University's Zandria F. Robinson notes in the doc, "We're using the wrong word when we talk about appropriation. Think about it as obliteration. When you take and then erase, you remove that entity's capacity to be attached to this thing that they created, to make money from this thing that they created."
"I love Zandria's comment about how it's really obliteration that is the greater injustice," said Cortés. "As someone who is a Black cultural worker, I'm especially sensitive to the value of what I create, and when made to feel invisible, how painful that can be, and how that obliteration of your work is destructive on so many levels." Little Richard: I Am Everything, then, is the most elegant of reassembly efforts.