Sofia Richie and Scott Disick are over at long last. People reports that Sofia, 19, broke up with lord of all bare chested men Scott, 35, adding an absolutely unnecessary explanation:

"When Scott drinks, he is a sloppy mess and fools around," the source says.
We know!
Scott allegedly "isn't taking it seriously" and an "insider" says he "thinks she might change her mind," and People reports that he cheated, and Lionel was never exactly thrilled about this.
Ana Gasteyer Satirizes the Girl Boss in 'American Auto'
We know!
Congratulations to Sofia! Congratulations to Lionel!
---
There are two and only two reasons your name will ever appear in a headline next to "handwriting expert": 1) You're a murder suspect 2) You married a prince. Based on the latter, we now know that the directions to Royal Wedding City are drafted in excellent penmanship. Get to work!
This comes up because of variations on this story in the Sunday Express: Meghan Markle: Handwriting expert 'lifts the lid' on Prince Harry wife's 'perfectionism,' which is to say that her March 2018 signature in the Titanic Belfast maritime museum guest book looks conspicuously more "relaxed" than usual. Exhibit A:
G/O Media may get a commission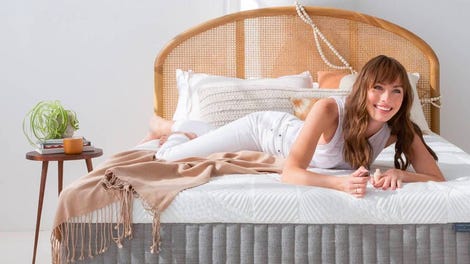 Sleep Sale
Sleep Sale - Brentwood Home
If you have been obsessively refreshing Meghan Markle's Wikipedia entry since May 19th, then you know that the above is absolute chaos compared to her standard signature:

She writes entire letters like this.
If you saw those swooping hooks back in 2016, you would have thought lol okay your ROYAL HIGHNESS.

And now you will say: I hope you enjoy your stay, your Royal Highness.
Maybe you should have practiced your penmanship, she'll think.
Probably should have seen that coming, you'll think.
Does Cressida have a signature? she'll think.
I still <3 Catheie Middltn, you'll think.
And then in this daydream where you are a service industry employee, you will refresh her inkwell.
In additional royal wedding leftovers, in other news, Prince Harry reportedly vetoed one of Meghan Markle's gossipy friends from the guest list, and Bishop Michael Curry has taped the intro for tonight's "Britain's Got Talent" season finale.
---
Much consternation over the Pete Davidson-Ariana Grande romance. Davidson, who announced last month that he and Larry David's daughter Cazzie David had split, has already gotten two small Ariana Grande-themed tattoos and was wearing her sweatshirt during a stand-up set on Friday. This is all over Twitter and is a Big Deal, and debates are raging over whether Pete is a dick or what. Idgi.

Yesterday, Cazzie threw mild shade on Instagram with this image on safari, captioned: "Been in Africa, what'd I miss ??"
Amy Schumer wrote "You're Amal" [Clooney], Lorde said "You're so hot omg," and Zoë Saldana and Jack Antonoff liked it.
That's all.
---