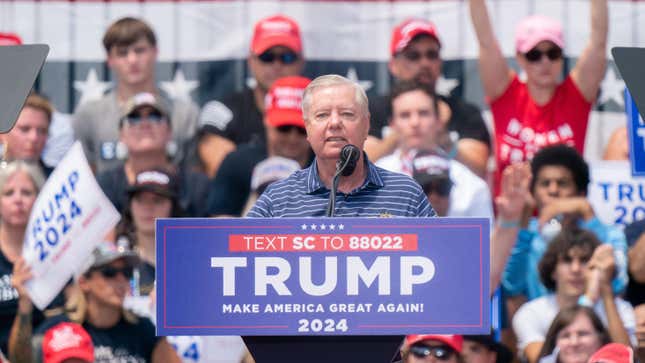 Sen. Lindsey Graham (R-S.C.) found out the hard way this weekend that while Pickens, South Carolina, might be "Trump Country," it definitely isn't Graham Country—despite being full of Graham's own constituents and the county where he grew up. Graham was booed for a full, excruciating five minutes in his home state this weekend as he tried to introduce Donald Trump at a rally.
The boos started almost immediately after Graham thanked the crowd for coming to Pickens, a town with not quite 4,000 people, to support Trump on Saturday. Graham, who grew up in Pickens County, let the crowd boo for a bit before trying to appeal to them. "Well, you want to find something in common?" Graham asked the crowd. "I've come to like President Trump, and he likes himself, and we got that in common. And I'm going to help him become president of the United States."
I can't help by laugh at Graham's feeble attempts at human connection, which clearly did not work on his fed-up constituents, who feel like he's not MAGA enough for them. William Billew, 74, told USA Today that Graham, who's represented South Carolina for 20 years, had too much "wishy-washiness."
Sixty-year-old South Carolinian Michael Propes didn't go so far as to say he regreted voting Graham, but it does sound like he's on his way there. "I voted for him years ago, I voted for him last year, but we need to vote him out," Propes told USA Today.
Mike Turnick, a Pickens resident, told the newspaper that Graham was the day's "low point," adding that Graham "sounded like he wanted to to talk more about himself instead of Trump" and that he "didn't care for his speech."
Even Trump didn't think Graham was really worth defending. When the former president mentioned the senator during his speech, the crowd booed again. "You know, you can make mistakes on occasion. Even Lindsey down here, Sen. Lindsey Graham. We love Sen. Graham," Trump said. "We're going to love him. He's half and half. When we need those liberal votes, we need him. We know the good ones. We know the bad ones, too," Trump said.
Trump then casually asked Graham if he could campaign for him—though Graham is not even up for election this year—which felt more like a boast about his own popularity over the senator's. "I'm going to have to work on these people. He's there when you need him," Trump told the crowd. "Do you mind if I come down and campaign a little for you, Lindsey? He was one of my earliest endorsements from the go, and I appreciate it, Lindsey."
I honestly cannot imagine a more humiliating day—politically speaking, at least (we won't get into his personal life here)—for Lindsey Graham.