During her seemingly endless 30th birthday celebration in Greece, Lindsay Lohan and her "fiancé," "successful" "Russian" "businessman" Egor Tarabasov reportedly got into a fight on the island of Mykonos. The spat (which reportedly happened in front of Tarabasov's mother) began after Lohan looked at her maybe-almost-husband's phone and discovered "some messages...that she didn't care for."

What happened next, according to The Daily Mail, is hard for me to imagine without stock reality show music from shows like Real Housewives or Love and Hip Hop, but I'm assuming it had no soundtrack beyond the waves of the Aegean crashing onto the beach.
First, Lindsay grabbed Tarabasov's phone and threw it into "the sea."

Next, Igor threw a drink "over" Lindsay.

Then, they must have started grabbing each other because "security at the beach club had to pull them apart."

Later, Mama Tarabasov was overheard saying something along the lines of, "Son.....................maybe don't?"

Finally, Lohan shared this Instagram post that reads, in part, "Falling in love is exhausting."

And now, the epilogue.
After news of the fight broke, the 30-year-old drama queen gave the following confession to Page Six:
"It had to do with my friend throwing his phone case in the water as a joke . . . because [guests] were making fun of it . . . People said I personally threw [the] phone, but it's all not true. It's a total fabricated lie!"
G/O Media may get a commission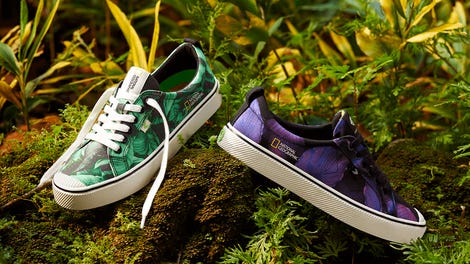 New New New
Cariuma + National Geographic
I don't know what to believe.
[Daily Mail / Page Six]

---
Six days after revealing that she almost died from a battle with epiglottitis, Sarah Silverman has updated her fans about her health. Beside a photo of her bruised arm that she posted to Who Say (people still use Who Say?), Silverman wrote:

"This is me, all better, milking my last vestige of sympathy."
[Page Six]
---
Martha Stewart "thinks millennials are lazy," meanwhile here's Martha.

[Page Six]
---
Everyone breathe a sigh of relief, because Natalie Portman and Benjamin Millipied, the couple born from juicy blind items, are fine. [Gossip Cop]

Kristen Stewart is one of those celebrities who talks about "energies," which I should have expected. [Celebitchy]

Gus Kenworthy is going to be just fine. [People]

Taylor wants to do a Vogue cover with Tom because, says a source, "Taylor loves that Tom is really into fashion and that they can coordinate their outfits together." [THL]

---
Images via Splash / Giphy.