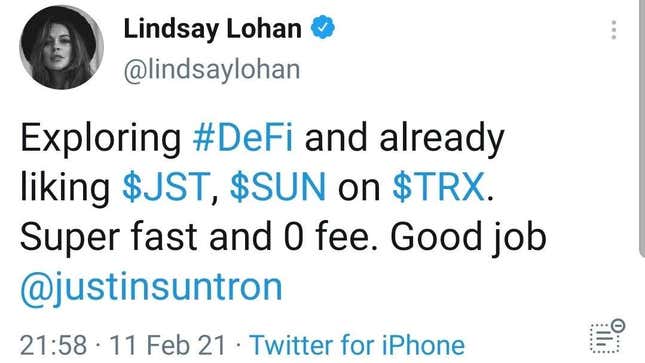 Unfortunately, today, Soulja Boy was not the one to tell 'em. Instead, the rapper (née DeAndre Cortez Way) got told by the Securities and Exchange Commission that he, along with Lindsay Lohan, Jake Paul, Austin Mahone, porn star Kendra Lust, Lil Yachty, Ne-Yo, and Akon have all been charged for not disclosing paid advertising for cryptocurrency assets. The SEC has also sued Justin Sun, the crypto-preneur (cursed portmanteau) and owner of the assets Tronix and BitTorrent that these celeb crypto-pushers were hawking, for this infraction as well as a scheme to inflate trading volume.
Taylor Lautner Doesn't Even Remember Saying 'Bella! Where the Hell Have You Been Loca?'
If discussing crypto makes your eyes glaze over with boredom, basically we're seeing some more hot air fizzle out of the crypto-craze-flation balloon. This ragtag group of celebs all got paid big bucks to tweet innocuous (scammy) things along the lines of "gee whiz, crpyto sounds cool, I'd love is Justin Sun could tell me more about his safe and exciting assets, who else is in? #cryptovestathon" or whatever.
SEC Chair Gary Gensler released the following statement:
"This case demonstrates again the high risk investors face when crypto asset securities are offered and sold without proper disclosure. As alleged, Sun and his companies not only targeted U.S. investors in their unregistered offers and sales, generating millions in illegal proceeds at the expense of investors, but they also coordinated wash trading on an unregistered trading platform to create the misleading appearance of active trading in TRX. Sun further induced investors to purchase TRX and BTT by orchestrating a promotional campaign in which he and his celebrity promoters hid the fact that the celebrities were paid for their tweets."
"Sun paid celebrities with millions of social media followers to tout the unregistered offerings, while specifically directing that they not disclose their compensation."
All of the celebrities except for Mahone and Soulja Boy had already settled with the SEC before the announcement was made this afternoon for a total of $400,000. That's about the limit of what I have to say on any matter related to crypto.