The preview for the 2-hour finale of Lindsay Lohan's OWN docu-series Lindsay is upon us... and, um, it's really sad.
It opens with Lindsay Lohan's shitty friends sipping on champagne around her while she narrates in a voice over about her struggles with alcoholism: "It's a really fucked up disease, and it's really scary." Lindsay Lohan's friends are the worst.
Anyway, the only shocking part for me was her reaction to the list of her sex partners that inTouch printed, because I was 90% convinced that it was a weird fabrication that she was just playing along with (I know, that's really irrational, but WHO PUTS "J. PHEONIX" BEFORE JUSTIN TIMBERLAKE?). "It was not only humiliating," says Lilo, "but just mean." :(
And it seems as though it's building to some sort of big confessional reveal — TUNE IN AT 8 TO FIND OUT! — likely about whether or not she relapses, which is a pretty insensitive way to handle things. Just saying. [E!]
---
G/O Media may get a commission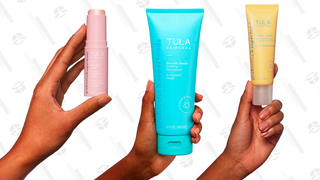 America's favorite teen witch Lorde disapprovingly noted that Fashion magazine may have Photoshopped her nose. She tweeted: "apart from the fact that i'm pretty sure this magazine gave me a new nose (:|), i really like this photo." Excellent use of linemouth, Lorde. Pulitzer for best slightly-miffed celebrity tweet.
Anyway, the editor of Fashion says the magazine "did not give Lorde a new nose" and said it was probably an illusion caused by lights and camera angles. Reality is a myth. God is the most sly Photoshopper of all. [E!]
---
In a most blessed and beauteous occurrence, Whoopi Goldberg is getting her own pot column on the Denver Post's pot site, in which she talks about pot-smoking. Her first entry is titled "My vape pen and I, I love story." Here is an excerpt:
The vape pen has changed my life. No, I'm not exaggerating. In fact, her name is Sippy. Yes, she's a she. And yes, I named her Sippy because I take tiny, little sips — sassy sips, even — from her. And with each sip comes relief — from pressure, pain, stress, discomfort.
The vape pen is from her daughter. This is the best writing on the 'net. [HuffPo]

---