Writing this makes me feel like it's one of the Groundhog Day scenes where Bill Murray wakes up, yet again, to the clock radio playing "I Got You Babe," but Lindsay Lohan got arrested early this morning for smacking a dude with her car on the way into the parking lot of a club in New York's Meatpacking District. Probably just to remind Amanda Bynes that she's just the Jesse to LiLo's Walt. Or, I should say, to her Heisenberg.
One of Lohan's passengers got out and checked the car, and then they went into the club. Granted, they were going at a very slow speed and the guy was only minimally injured—a clipped knee, for which he went to Bellevue Hospital later that night. However, the cops were called and Lohan arrested for a misdemeanor at around 2:30 AM. [TMZ, NYDN]
Fellow train wreck Amanda Bynes hit back at Lindsay Lohan's accusatory tweet about how unfair it is that she hadn't been arrested yet while Lohan herself has a rap sheet the size of War & Peace. Bynes texted a friend: "i HATE being compared to her." [TMZ]
---
G/O Media may get a commission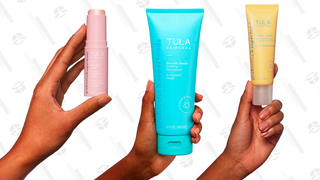 I doubt there is a better way to spend $40,000 in one night than attend Beyoncé and Jay-Z's Obama fundraiser at the 40/40 Club, which took place last night (about a week after Bey's now-immortal "I know I don't usually email you" inbox gem).
The two raked in $4 million for Barack Obama, who said that Bey "could not be a better role model to our daughters because she carries herself with such class and poise and has so much talent." He also joked that he and Hova bonded over both having daughters and wives who are more popular than they are. [The Caucus/NYT]
---
Prince William and Kate Middleton won a benchmark lawsuit in French court on Tuesday over the now-infamously invasive topless shots of Kate with a telephoto lens far away from the chateau balcony on which she and William sunned. The court referred to the photos as "a brutal display" and ordered Closer to surrender all of their photos or else incur a $13,100 daily fine.
Gotta say, it seems somewhat for naught because the photos have already landed in tabloids in Italy and Ireland, but this seems to be more about establishing a precedent to avoid another Princess Diana situation than it does about making sure nobody else sees K8's nipples. So now that Pandora's Box is open, expect to see more smallish Buckingham Palace lawsuits against paparazzi for the next 5 years or so. [TMZ, Newsday]
---
Pregnant Drew Barrymore, who's been chilling on her vineyard waiting for her and Will Koppelman's baby to slide out, sounded really enthusiastic about the future in the October issue of Haute Living:
I love the idea that they don't have to do something that they have no interest in, that they can do something completely opposite if they want to. I will be so surprised if they don't want to do something involving food or wine or art, but I'll be OK with it. I just want to build fun, great things for my family.
Although her signature wine Barrymore Pinot Grigio has been going well, she's still "searching for her red." Aren't we all. Actually, I don't really know what metaphor that is. [Haute Living, Us Weekly]
---
After three seasons as a regular, reality star Alexis Bellino is leaving Real Housewives of Orange County, citing the bullying of fellow housewife Tamra Barney as the reason for her departure (Barney referred to Bellino as "Jesus Jugs.") But an E! source says that Bellino was actually just fired for being a diva. The world may never know. Or care. [Us Weekly, Ace Showbiz]
---
Hey, here's the trailer for Greetings From Tim Buckley, which features Gossip Girl's Penn Badgley, more commonly known as Dan "Lonely Boy" Humphrey and/or The Guy Blake Lively Dated For A Long Time But Did Not Marry, playing the late singer-songwriter Jeff Buckley.
---