Late Monday night, Ariana Grande released a teaser trailer for the highly anticipated "thank u, next" music video. As gleaned from the teaser, and Grande's own social media posts, the video will be a pastiche of several cult teen comedies: Bring It On, 13 Going on Thirty, Legally Blonde and of course, Mean Girls. The clip features several stars reprising their canonized roles, including Jonathan Bennett, aka Aaron Samuels. Last night, Lindsay Lohan, whose turn as the affable white African, Cady Heron is considered by many (me) to be the best performance of her career, aired her feelings in the most Lindsay way possible: via Instagram. The caption: "Behind the scenes ain't nobody Lindsay Lohan like the real Lindsay Lohan. But so flattered by @arianagrande loving #MeanGirls so much! Also, I love #dynasty
She's so generous! Also, is it standard for music videos to come preceded by trailers? Isn't a music video, essentially, a trailer already? If Ari's budget only allowed for one celebrity, she should have requested Lindsay/Cady; who cares about Aaron Samuels? The video for Thank U, Next drops Friday.

G/O Media may get a commission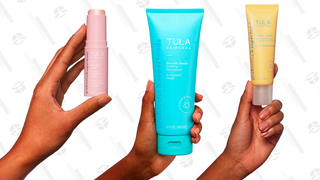 Jennifer Lopez dropped by Ellen Degeneres's eponymous tv show this week to promote her new movie, Second Act. Ellen grilled J.Lo about her allegedly pending nuptials to Alex Rodriguez. J.Lo has intermittently been spotted wearing a diamond on her ring finger, allegedly from Rodriguez. "And your boyfriend...remind me of his name?" Ellen asked. "He texted me earlier today...So, you'll be getting married?" At 29, I have seen J.Lo through 3 marriages and Ben Affleck. With A. Rod, I think she looks the happiest I've seen her since at least the Chris Judd days.
J.Lo laughed and deflected, until Ellen alluded to her possibly receiving a quaint, inexpensive gift for Christmas. J.Lo responded: "Did he say inexpensive? That's not gonna work! We don't work overtime for all that!" Wait, was Love Don't Cost a Thing...a lie???
[E!Online]
Two months after breakup, Pete Davidson is Instagramming again. [Us Magazine]
Kendall Jenner still hooking up with Ben Simmons. [Daily Mail]
Quentin Tarantino marries Daniella Pick. [People]