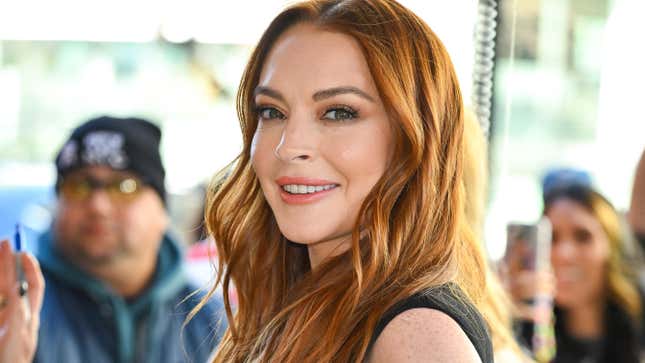 If you ask me, Lindsay Lohan has always been Mother™, but in 2023 she's set to become someone's actual mother. That's right, Lohan just announced she's having a baby. Suddenly, I feel the urge to party in Mykonos, bitch!
Is Emmy Rossum Old Enough To Play Tom Holland's Mom?
On Tuesday, the actress shared the news via Instagram, posting a photo of a white onesie that reads: "Coming soon..."
"We are blessed and excited," Lohan captioned the post. Awww! And just when you thought it couldn't possibly get any sweeter, plenty of people were there to shower the mommy-to-be with well wishes.
And her Mean Girls co-stars Amanda Seyfried and Lacey Chabert were among the first to extend congratulations to Lohan. "This is WONDERFUL NEWS," Seyfried wrote. "I'm thrilled for you!!!! So exciting," Chabert echoed. Nancy Meyers, Quinta Brunson, Donatella Versace, Barbara Corcoran, Katie Couric, and Garcelle Beauvais were also on hand to celebrate the news of the bundle of joy.
It's been a very good year for Lohan. In April 2022, she tied the knot with financier Bader Shammas, and by November, the actress made her return to the big screen (kind of) with Netflix's Falling For Christmas, which garnered rave reviews—including one from us.
The rumor mill has churned with speculation about a little Lohan for months. "Lindsay and Bader have obviously talked about starting a family and it is something that they both want," a source close to Lohan told Hollywood Life in August 2022. She was also reported to have considered adoption and has wanted to become a mother for years.
"I would love to have two or maybe four kids," she said in 2018.
Good, and I cannot stress this enough, for her! Anyone else hoping for twins?