On Monday, November 19, Teresa Shook, the retired attorney from Hawaii who has been credited as the founder of the Women's March based on her creation of a Facebook event that subsequently went viral and led to the historic protest, called on the four leaders of the national organization to step down.
In a Facebook post, which has since been shared thousands of times and generated its own propulsive news cycle, Shook wrote that the organization's four leaders—Linda Sarsour, Tamika Mallory, Bob Bland, and Carmen Perez—have "steered the Movement away from its true course," which to Shook was to "show the capacity of human beings to stand in solidarity and love against the hateful rhetoric that had become a part of the political landscape in the U.S. and around the world." (In a response also posted on Facebook just a few hours later, the four women, after thanking her for creating the Facebook event that led to the march, went on to lambast her as well as unnamed organizations for weighing in "irresponsibly" and using the moment to "take advantage of our growing pains to try and fracture our network.")
The "hateful rhetoric" Shook was referring to, and the force driving her demand that the four turn over the reins of the Women's March (to whom is not yet clear), stems from a long-simmering critique that was first raised last year by conservative columnist Bari Weiss in the opinion pages of the New York Times. The leaders of the Women's March, Weiss and others have charged, are anti-Semitic. That claim stems in large part from their participation in events organized by the Nation of Islam and their association with its aging patriarch Louis Farrakhan, and that have been eagerly circulated on rightwing news websites before spilling over into all corners of the media and endlessly litigated on social media earlier this year. In the wake of the horrific murders of Jewish worshippers at Pittsburgh's Tree of Life synagogue by an avowed white supremacist, that claim has gained a new force.

Shook's post was preceded by others who had come to question the four women's commitment to combating anti-Semitism. At the end of October, days after the massacre at the Tree of Life synagogue, activist and actor Alyssa Milano weighed in, telling The Advocate that, in her estimation, the Women's March leaders had yet to address Farrakhan's anti-Semitism. When asked whether she would attend the Women's March planned for 2019, she said no: "Unfortunate that none of them have come forward against him at this point. Or even given a really good reason why to support them."
G/O Media may get a commission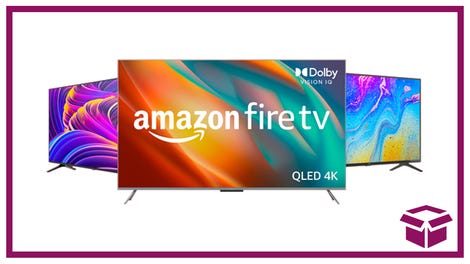 Ooh. stunning.
New Amazon Fire TVs
A few days later, Maggie Haberman of the New York Times tweeted a link to an op-ed in the New York Daily News titled, "Farrakhan's words matter, too: It's about time the left universally denounced his anti-Semitism." Of the four women, two in particular—Tamika Mallory and Linda Sarsour—have come under extensive scrutiny. (Note: Jezebel featured Linda Sarsour on an inauguration panel the day before the Women's March in 2017.) Particularly in the case of Sarsour, a Palestinian American who is sharply critical of the state of Israel's continuing subjugation of Palestinians, it's difficult to see that scrutiny as anything but bad faith, and consistent with often Islamophobic attacks that conflate anti-Semitism with any criticism of the actions of the Israeli government. Those attacks, under a veneer of social justice, are straightforward attempts to smear and delegitimize Sarsour, whose pro-Palestinian stance is an affront to those who refuse to entertain any negative judgment of the Israeli government. (Sarsour, it should be noted, has led several efforts over the years to fundraise for Jewish victims of anti-Semitic attacks—including raising more than $200,000 to help pay for the funerals of victims of the attack at the Tree of Life synagogue—hardly the work of a rabid anti-Semite.)
But their association with Farrakhan is trickier to defend and to unpack. Sarsour, Perez, and Mallory have all appeared at events sponsored by the Nation of Islam; of the three, Mallory has the longest-standing relationship with the organization. (In 2017, Mallory posted a photo on Instagram of her and Farrakhan, in which the caption read: "Thank God this man is still alive and doing well. He is definitely the GOAT.") At the end of February, Mallory, who is the co-president of the Women's March, attended the Nation of Islam's annual Saviour's Day event, during which Farrakhan made quite a few objectively vile anti-Semitic (not to mention transphobic and homophobic) statements, from describing "the powerful Jews" as his enemy to blaming Jewish people for "degenerate behavior in Hollywood" that is "turning men into women and women into men." 
This is par for the course for Farrakhan, who typically blends together an unseemly mix of homophobia, transphobia, and a regressive sexism with his anti-Semitic rhetoric. In a pre-Trump era, his remarks would have likely largely been ignored, more a recognition of his increasing irrelevance than a commentary on his beliefs; today, they have taken on a new valence, spurred by real and necessary concerns about the growing threat of anti-Semitism. But the motivations of many who want the Women's March leaders to denounce him are easy to read as disingenuous—namely, the longstanding eagerness of rightwing pundits to discredit the women who lead the march, Sarsour in particular, using charges of anti-Semitism as a blunt rhetorical tool, with Farrakhan as an easy vessel. We would do well to hold both truths in our minds, but engaging in this type of non-dual thinking is a care that few have attempted in recent months.
Among the many who earlier this year seized on Mallory's appearance at the Saviour's Day event was CNN's Jake Tapper, who first raised the question of her presence in a thread on Twitter and then subsequently devoted a section of his show to questioning why they had yet to denounce Farrakhan. (What is remarkable is that even as today's black activists have largely refuted Farrakhan's conservative, patriarchal politics of racial uplift, pundits and journalists like Tapper, Weiss, and Haberman continue to fixate on him as if he were still at the height of his power, which culminated in the Million Man March in 1995 and in the ensuing years has experienced a marked decline.)
On March 6, several days after Tapper and others began criticizing Mallory for her attendance at the Saviour's Day event, the leaders of the Women's March issued a statement condemning anti-Semitism and expressing support for Mallory, without explicitly condemning Farrakhan himself. "Anti-Semitism, misogyny, homophobia, transphobia, racism and white supremacy are and always will be indefensible," they wrote. Couching their response as part of the "difficult" and "often painful" work of "intersectional movement building, they wrote that "[w]ithin the Women's March movement, we are very conscious of the conversations that must be had across the intersections of race, religion and gender," before going on to proclaim that "Minister Farrakhan's statements about Jewish, queer, and trans people are not aligned with the Women's March Unity Principles."

Mallory herself, in a piece published in March in NewsOne, defended her attendance at the Nation of Islam's annual gathering, expressing surprise that she had been singled out, as she had been a regular attendee for more than three decades. "I am the same woman who helped to build an intersectional movement that fights for the rights of all people and stands against hatred and discrimination of all forms," Mallory wrote, adding that "as historically oppressed people, Blacks, Jews, Muslims and all people must stand together to fight racism, anti-Semitism and Islamophobia." She too stopped short of explicitly condemning Farrakhan, writing, without mentioning him by name, that "It is impossible for me to agree with every statement or share every viewpoint of the many people who I have worked with or will work with in the future. As I do not wish to be held responsible for the words of others when my own history shows that I stand in opposition to them, I also do not think it is fair to question anyone who works with me, who supports my work and who is a member of this movement because of the ways that I may have fallen short here or in any other instance."
Farrakhan is someone that few would call a leader of today's left (he is, rather, as Manning Marable wrote, a staunch conservative wrapped up in black nationalist politics, and in that respect, a sort of warped mirror image of Donald Trump, whom Farrakhan professes to support). As many have noted, Farrakhan has long joined forces with anti-black reactionaries like Lyndon La Rouche and gained admirers from white nationalist groups for, among other things, his embrace of racial separatism. Yet as Mallory explained, her loyalty is a result of a time of personal tragedy and loss—after the father of her child was killed, it was, she wrote, "the women of the Nation of Islam who supported me." As the Atlantic's Adam Serwer wrote in March, that derives from "a sense that despite the Nation's many flaws, it is present for black people in America's most deprived and segregated enclaves when the state itself is not present, to say nothing of those who demand its condemnation."
For Mallory, who has also written of her refusal to discard Bill Cosby even in the wake of his rape trial, support for Farrakhan is closely tied to the project of black liberation, a cause that the Nation of Islam still continues to represent, if with declining relevancy. "Where my people are is where I must also be. I go into difficult spaces," she wrote.

While it is easy to side-eye this sort of steadfast support of wholly undeserving men (my eyebrows practically shot up off my face when I read her defense of Cosby), it is less easy to discount her reasons for doing so.
It is a point that Mallory herself made to Serwer: "Men particularly in my family, people who had been arrested, and people who had been through really troubled situations, I saw them cleaning themselves up and were successful" because of the Nation of Islam, which she said "had been influential in helping them to turn their lives around." As Briahna Joy Gray underscored in a piece in Rolling Stone, while noting that "there is no ethical defense of Farrakhan's anti-Semitic remarks," "the argument that Mallory's interest in Farrakhan is not rooted in anti-Semitism—that she could support Farrakhan's advocacy for black equality despite his bigoted blind spots—is a more plausible and, frankly, common posture than most of the media is willing to recognize."
Yet this sort of understanding—one that can both denounce Farrakhan and his bigotry while attempting to understand the myriad reasons why black Americans might be loathe to condemn him, and by extension, the organization he helms and the communities that it serves—has been largely absent in the ensuing outrage, which asks instead whether the Women's March is tainted by association. It's a question that feels fair but is decidedly less so when one remembers that it is often not asked of others. Consider, for example, the praise heaped upon the Reverend Billy Graham after his death—few mentioned the more genteel strain of anti-Semitism he espoused.
We can recognize the nuance of Mallory's position on Farrakhan while also recognizing that holding it is an increasingly untenable (if it ever was) posture at a time when attacks on Jewish Americans—and members of all marginalized groups—are on the rise, with the fuel largely coming from an emboldened white nationalist movement whose figurehead now sits in the White House. A bright line can be traced from Trump's rhetoric to the Tree of Life massacre, to Cesar Sayoc and the smearing of liberal philanthropist George Soros, to the desecration of Jewish cemeteries.
Can similar blame be put on Farrakhan? As Max Berger, writer and co-founder of IfNotNow, a leftist Jewish American organization that advocates against what it describes as the Israeli occupation, expressed on Twitter, "Trump is the President and his followers are out here murdering people. Farrakhan is a pathetic old man who's [sic] followers are poor black people." How valid is it to create an equivalence between the two, one that flattens important distinctions in both social position and in real authority? The statement IfNotNow released in March echoed Berger: "That the [Anti-Defamation League] and other Jewish leaders undermining the Women's March fail to understand that the true threat to our community today is the rise of white nationalism is a galling moral failure." It continues: "The leaders of the Women's March have erred. But we can name that error without writing them off."
The day after Shook called for the four women leading the Women's March to step down, Sarsour issued a more conciliatory statement, one that will not appease her harshest critics, who will be satisfied by nothing less than an acquiescence to Shook's demand. Sarsour expressed regret that they were not "faster and clearer in helping people understand our values and our commitment to fighting anti-Semitism" and that they "are deeply sorry for the harm we have caused."
"We are trying to build an intersectional women's movement," she continued. "That is a monumental task that is hard, it is messy."
The Women's March—both the original march itself and the organization—represents the radical hope that it is possible to unite an unwieldy coalition of women, long divided by the lines of race and class (and hardened into place by a history of the privileged among us refusing to acknowledge their role in maintaining those borders). It's solidarity in the service of a political project that not only acknowledges the unevenness of the life chances meted out to each of us, but works to create a measure of relief for those who need it the most acutely. It is a form of organizing that can often feel like a horizon that races away as soon as we make tentative steps towards it—but the work still remains.
In Together We Rise, an oral history of the Women's March, Mallory shares her reaction upon seeing the hundreds of thousands gathered together while she was on stage with Sybrina Fulton, the mother of Trayvon Martin. She recounts that at that moment she had a revelation. "I just realized for a minute that if I had died—the way Trayvon was killed, the way Sandra Bland was arrested for nothing and died in a prison cell—if [I] was any of those people, the women and the families who showed up in DC on march day would never, ever have come together in that way for me," she said. "They wouldn't have been there for me any more than they were there for Trayvon or Sandra. And so I went from a feeling of, like, this is beautiful, to a sad place of, Wow: this is the power we have. Yet it is not being exercised on behalf of the rights of all. And particularly not on behalf of black and brown folks."
She made no reference to the Nation of Islam, yet it's plausible that Mallory was thinking of the Nation's women, whom she has referenced as being there for her in her lowest moments. At its height in the 1970s, the Nation counted more than 200,000 members; today, its membership has shrunk (one scholar estimated the group had 50,000 members in 2007), as has its footprint in black communities across the U.S. Still, the organization, as many have noted, continues to engage in both real and symbolic work, despite its diminished size. Earlier this year, Mallory was asked whether she would continue to work with the organization. "The brothers and sisters that I work with in the Nation of Islam are people too. They are a part of the work that I've been doing for a long time and they are very much so ingrained in my anti-violent work of saving the lives of young black men and women," she said. "So that's the answer to that."
For Mallory, Serwer wrote in the Atlantic, it may well prove "impossible to continue working with the Nation, and at the same time, lead a diverse, national, progressive coalition that includes many of the people Farrakhan and the Nation point to as the source of all evil in the world." Yet in the midst of all of the calls demanding that Mallory and the rest of the Women's March leaders denounce Louis Farrakhan, I'm left wondering if there is equal outrage over the painful truth that Mallory expressed as she stared out at the crowd at the first Women's March. I think I know the answer.