Golden Globe winning actress Lady Gaga is nominated for an Oscar this year for the song "Til It Happens to You," which she co-wrote with Diane Warren for the documentary The Hunting Ground. But not everyone thinks Gaga actually helped write it! By "not everyone" I mean "everyone but Linda Perry."
In a series of now-deleted Tweets written yesterday, the songwriter claimed she heard Warren's original demo and suggested Gaga probably only "re-wrote" a single line.

Reports Page Six:
"I have Diane's original demo with her singing," Perry, 50, tweeted early Monday. "The only line that has been changed 'Till you're at the end, the end of your rope.' Originally was 'Til you got a hole ripped in your soul.' So I guess technically one line was changed so sure Gaga possible 'rewrote' a line."

"But changes are Diane still took part in rewriting that line which means Gaga contributed a few words," she summarized her thoughts. "Is that writing? Not in my book."
Within hours, Warren weighed in:
G/O Media may get a commission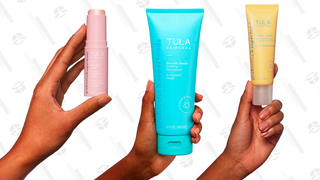 And then, finally, Perry took it back.
Grade A damage control, Linda.
[Page Six]
---
Look. Just because Leo and Rihanna kiss a lot doesn't mean they're in love. They're just good friends! Page Six reports the two close buds were recently at Club L'Etoile in Paris, where Leo was spotted "leaning in and smooching the Barbadian beauty."
If you were good friends with either Leonardo DiCaprio or Rihanna, wouldn't you engage in some consensual/non-sexual kissing when out and about in the City of Love? No? OK, fine.
I guess I wouldn't either. Leo would do nothing but talk about his recent Kabbalah studies and Rihanna would just lie to my face about ANTI's release date.
[Page Six]
---
Here's a video Ryan Coogler accidentally revealing J. Cole's recent marriage.
[E!]
---
---
Contact the author at bobby@jezebel.com.
Images via Getty.