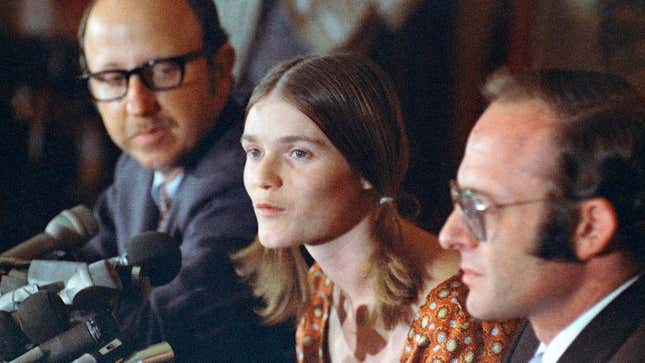 Linda Kasabian, the former Manson Family member who testified against Charles Manson and other family members during their 1970 trials, is dead. Though she died January 21 at a hospital in Tacoma, Washington, the news only began to circulate widely this week, with various outlets like the Los Angeles Times and the Washington Post reporting. Kasabian's death certificate listed no cause of death and identified her as "Linda Chiochios," one of the names she used after the trials. She was 73 years old.
Prosecutor Vincent Bugliosi called Kasabian the prosecution's "star witness" and described her as "brutally frank" in his 1974 true-crime opus Helter Skelter. She had been charged with seven counts of murder but received immunity for testifying against her former cult leader. Her time on the stand was of marathon proportions—Bugliosi wrote it was 17 days, though other reports said 18.
Kasabian is quoted in Helter Skelter as describing her arrival to the Family's Spahn Ranch, when she was 20 years old, like this: "I was like a little blind girl in the forest, and I took the first path that came to me." Her time with the cult totaled less than a month and a half. Two days after the Tate-LaBionca murders that spanned August 8-10, 1969, she fled to New Mexico. She arrived to the ranch with a 1-year-old daughter, Tanya, and was pregnant during the murders. She would eventually have that child, a son, while in jail and awaiting giving testimony.
"On her own since 16, Linda had wandered from the east coast to the west, 'looking for God,'" wrote Bugliosi. "In her quest she had lived in communes and crash pads, taken drugs, had sex with almost anyone who showed an interest. She described all this with a candor that at times shocked me, yet which, I knew, would be a plus on the witness stand." Once embedded with the family, Kasabian "went on garbage runs, had sex with the men, creepy-crawled a house, and listened as Manson lectured about the Beatles, Helter Skelter, and the bottomless pit."
Kasabian was reportedly the only family member to have a valid driver's license. By all recognized accounts, she did not murder anyone alongside her fellow family members, but was present during both sets of murders. She is often described as having been on lookout those nights. Kasabian witnessed not only the death of Steve Parent, but also saw Tex Watson stabbing Voytek Frykowski, and Patricia Krenwinkel chasing Abigail Folger across the lawn of the house at Cielo Drive, where Sharon Tate was staying.
When asked on the stand why she was testifying against Manson and his cult, Kasabian said, "I strongly believe in the truth, and I feel the truth should be spoken." Bugliosi wrote:
There was a sort of sad fatalism about her. She said she knew she had to tell the truth about what had happened, and that she had known she would be the one to tell the story ever since the murders occurred. Unlike the other defendants, she seemed burdened with guilt, though, again unlike them, she hadn't physically harmed anyone. She was a strange girl, marked by her time with Manson, yet not molded by him in the same way the others were. Because she was compliant, easily led, Manson apparently had had little trouble controlling her. Up to a point. But she had refused to cross that point. "I'm not you, Charlie. I can't kill anybody."
After the trials, Kasabian largely shielded herself from the public eye. The Los Angeles Times reported that Kasabian lived in New Hampshire and Washington and raised four children, including the one she had while in jail. In a 2009 documentary on the murders, Kasabian said, "I could never accept the fact that I was not punished for my involvement in this tragedy. I felt then what I feel now, always and forever, that it was a waste of life that had no reason, no rhyme. It was wrong. And it hurt a lot of people."
As a result of the trials, five Manson family members were convicted. Susan Atkins died in 2009. Charles Manson died in 2017. Leslie Van Houten, Patricia Krenwinkel, and Tex Watson remain incarcerated. They have been routinely denied parole. Last year, Krenwinkel was granted parole, only to have that decision blocked by Gov. Gavin Newsom a few months later.