Linda Brown, who in 1951 became the leading figure in the Brown v. Board of Education case, died on Sunday in Kansas. She was 75.

Brown was nine years old when her father, Oliver Brown, enrolled her at what was then an all-white school near her home in Topeka, Kansas, CNN reports. The school—Sumner Elementary—blocked her from attending, prompting her father to sue the Topeka Board of Education. Combined with four similar complaints from other families, the cases morphed into Brown et al v. Board of Education Board of Education of Topeka, Shawnee County, Kansas, et al.—one of the most prominent civil rights decisions in modern history.
Thurgood Marshall argued on behalf of the plaintiffs before the Supreme Court, and in 1954, the court ruled unanimously that segregated schools were inherently unequal.

"Linda Brown is one of that special band of heroic young people who, along with her family, courageously fought to end the ultimate symbol of white supremacy—racial segregation in public schools. She stands as an example of how ordinary schoolchildren took center stage in transforming this country," said Sherrilyn Ifill, president and director-counsel at NAACP Legal Defense and Educational Fund.
Cheryl Brown Henderson, Linda's sister and founder of the educational organization The Brown Foundation, recalled that her family was one of 13 in their community to test the case.
G/O Media may get a commission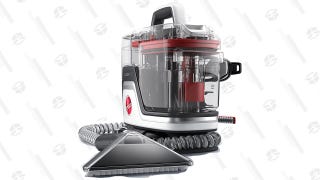 Save $10
Hoover CleanSlate Plus Carpet & Upholstery Cleaner
"They were told, 'Find the nearest white school to your home and take your child or children and a witness, and attempt to enroll in the fall, and then come back and tell us what happened,' " she said in an interview with History NOW.
Brown recalled her first day at Sumner in a 1987 interview with the Miami Herald, via the New York Times:
"It was a bright, sunny day and we walked briskly," she said, "and I remember getting to these great big steps."

The school told her father no, she could not be enrolled.

"I could tell something was wrong, and he came out and took me by the hand and we walked back home," she said. "We walked even more briskly, and I could feel the tension being transferred from his hand to mine."
The Brown decision officially overturned Plessy v. Ferguson, which since 1896 had established the doctrine of "separate but equal."