In February, beauty brand Lime Crime's website was hacked and customer financial information was compromised. Customers alleged that the company response to the breach was less than swift, pinning the blame on Lime Crime founder Doe Deere. Then, in July, the company received further attention for a warning letter the FDA sent them over potentially unsafe color additives in their Velvetines Liquid Matte Lipstick. But in a new interview, Deere claims that all the company's troubles are behind them.
Deere talked to Time Inc.'s beauty blog Mimi, and it's a real softball of a piece, one that's particularly noteworthy because it's been just a few weeks since Jezebel contributor Arabelle Sicardi published an article on Racked entitled "Why Lime Crime Is the Most Hated Beauty Company on the Internet." Sicardi covered the range of issues that have been leveled against Lime Crime: accusations of repackaging, Deere's litigiousness towards people who have written negatively about her online, and the current class-action lawsuit against the company over the data breach. Though she's been hit with a range of pretty hefty complaints, in this new interview, Deere does not come across like someone who has taken them all that seriously—though perhaps part of that is the framing by author Rosy Cordero, who did the interview while getting a manicure with Deere, noting that "not only was she extremely welcoming, but she was open to discuss anything."
On the security concerns regarding Lime Crime's website, Deere clarifies that the website is "absolutely" safe to shop on now. [Emphasis added]
We have beefed up the security on the website. We hired multiple security experts to do that. I'm proud to say that our website is probably one of the safest to shop on the Internet right now. When you go to the website you can see there's a little green thing that says Lime Crime Inc. is verified and is safe. The breach did not happen because of something we did or did not do. We were hacked. Once your website gets targeted, there's little you can do. The government gets hacked. Target, Neiman Marcus, and Home Depot got hacked. It's just something that unfortunately happened to us. I think we came out of it better because we really beefed up our security.
G/O Media may get a commission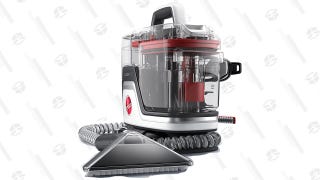 Save $10
Hoover CleanSlate Plus Carpet & Upholstery Cleaner
(That "little green thing" is an SSL certificate by the way.) The company certainly wants to make it clear these days that things have changed; on the Lime Crime website, the first question under the Customer Care section pertains to website safety.
At no point does Deere address the Lime Crime's slow response to the hack, which consumers allege had been going on for months before they shut the site down and dealt with it. Perhaps that's because this whole affair doesn't seem to have stopped their growth; their products are currently sold in Urban Outfitters, and they're now producing hair dyes.
Deere did respond to questions about how she keeps her spirit up despite all the "haters" out there, crediting her fans for keeping her optimistic. "There are a lot of cyber bullies out there, but that type of female camaraderie gives me hope," she says. She also adds:

I was and I still am just a normal person. I never did and still don't consider myself a celebrity even though I do have a following online.
---
Contact the author at dries@jezebel.com.