There's nothing subtle about Lily Allen's new video for her song "Hard Out Here," and that's what makes it so great. An effortlessly poppy tune that will please those who fell in love with her way back when "Smile" first came out, "Hard Out Here" has Allen referencing everything from the sexual double standard for women to the glass ceiling. It's a feminist pop anthem you can blast at parties.
The video starts out with Allen on the operating table getting liposuction while talking to an old white male music executive, who tells her that how David Letterman and Jimmy Kimmel have rejected her from their shows. It then segues into her filming a stereotypical music video filled with bootyshaking backup dancers (the music exec tries to teach them all the right way to shake it), money everywhere and gold jewelry ala Lorde, someone Allen has recently said she loves.
The lyrics are classic Allen (as is the title, a reference to Three 6 Mafia's Oscar-winning song "It's Hard Out Here For A Pimp") sung in a sweet voice that's almost high enough to hide the real stuff she's talking about, all of which is sharp enough to wound:
I suppose I should tell what this bitch it thinking/You'll find me in the studio and not in the kitchen/I won't be bragging 'bout my cars or talking 'bout my chains/No need to shake my ass for you cause I've got a brain

If I told you about my sex life, you'd call me a slut/When boys be talking about their bitches no one's making a fuss/There's a glass ceiling to break/There's money to make/ And now it's time to speed it up because I can't move at this pace
Sometimes it's hard to find the words to say I'll go ahead and say them anyway/Forget your balls out there and grow a pair of tits/It's hard, it's hard, it's hard out here for a bitch

If you're not a size 6, then you're not good looking/Well you better be rich or be real good at cooking/You should probably lose some weight 'cause we can't see your bones/You should probably fix your face or you'll end up on your own/Don't you want to have somebody who objectifies you?/Have you thought about your butt, who's gonna tear it in two?/We've never had it so good, uh huh, we're out of the woods/And if you can't detect the sarcasm, you've misunderstood

Inequality promises that it is here to stay/Always trust the injustice because it's not going away
G/O Media may get a commission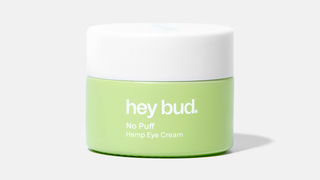 15% off
Hey Bud - No Puff Hemp Eye Cream
In the video, Allen does some clear call-outs to recent controversial pop culture videos, including some licking of a Beats Pill ala Miley Cyrus:
and some fun with balloons ala Robin Thicke (has a big dick):
Allen's critique of a sexist music world feels a bit like Jewel's video "Intuition" did in 2003, but it's far more explicit and nuanced. Though Jewel's video called out sexism in pop culture, the song fell flat. "Follow your heart, your intuition/It will lead you in the right direction" is a great sentiment and all, but not particularly interesting or funny, two things that Allen has managed to combine in this release. Allen's also trying to turn this into a conversation, encouraging people to talk about the song and video on Twitter using the hashtags #HOH and #Bitches.
Allen's video is bound to be criticized by for her own use of mostly black backup dancers twerking, but the key difference here is that this is satire, however difficult that can be to pull off. (Though it'd be awesome to hear what the dancers in this video have to say about their performances.) Plus, she lays it all for you: "If you can't detect the sarcasm, you've misunderstood."