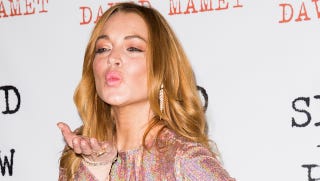 With time running out to complete her community service hours before her May 28 deadline, Lindsay Lohan is reportedly looking for contingency plans to keep her out of the clink. The options: 1.) buckle down and complete the hours, 2.) accept the consequences of her actions and go to court, and 3.) live her life like madcap caper and flee to Monaco.
Option three it is!
TMZ reports that Lindsay:
...says a very rich friend has a hotel in Monaco and has given her carte blanche to stay indefinitely, and she'll take him up on the offer.

Thing is ... she can't be extradited for a reckless driving misdemeanor, so authorities can't touch her.

In the unlikely event she actually completes her community service on time, she says she'll gladly go to court, but then it's definitely off to Monaco.
Lohan—who was charged with reckless driving in 2012—has had three years to complete 125 hours of court-ordered community service. As of May 7, she had completed fewer than 10.
[TMZ]
---
Fairuza Balk, the original Nancy Downs, has spoken out about The Craft remake on Twitter and—just like you—she thinks it's a stupid idea. [Dlisted]
---
You maybe thought that Taylor Swift was at the Billboard Awards last night to pick up some awards and premiere her new "Bad Blood" video, but really she was there to play a game of PUBLIC TONSIL HOCKEY with her new boyfriend, Calvin Harris. The pair "canoodled" all night and sucked face after Taylor won Top Billboard 200 Artist and Top Female Artist. I mean, who among us haven't made out with a famous Scottish DJ in a moment of triumph? [US Weekly]

---
Photos via Getty.
---
Contact the author at madeleine@jezebel.com.