Liliane Bettencourt, cosmetics heiress, richest woman on Earth and center of a multi-billion dollar scandal known as the Bettencourt Affair, died today at the age of 94.

As the sole heir to the L'Oréal fortune, Forbes placed Bettencourt's wealth at more than $40 billion, securing her spot as the 14th richest person in the world. But it's the drama that shrouded her later years for which Bettencourt will likely be remembered, making headlines beginning in 2007 after members of her inner circle were accused of exploiting her faltering mental health for their monetary gain.
Bettencourt's father founded L'Oréal in 1907 after inventing the modern recipe for hair dye, shepherding the company's rise from a small-town supplier to a multinational enterprise with more than 30 brands sold in 140 countries. Bettencourt left the company's board in 2012, but not before she had a very public falling-out with her daughter, Francoise Bettencourt Meyers, who claimed her mother was mentally unfit and was being worked over by her entourage, particularly one François-Marie Banier, the Guardian reports:
When Bettencourt's husband, the politician André Bettencourt, died in 2007, their daughter Françoise Bettencourt Meyers, decided to take legal action against her mother's eccentric best friend, François-Marie Banier. The dandy photographer, artist and one-time society golden boy was accused of taking advantage of Bettencourt's frailty to accept almost €1bn worth of gifts, including paintings, life insurance policies and a salary from L'Oreal.

Shocked domestic staff at Bettencourt's mansion west of Paris whispered how the flamboyant Banier would pee in the flowerbeds, lie on Bettencourt's bed with his shoes on and make requests for money.
The scandal had reach well beyond the flowerbeds, eventually sprawling to include accusations that even Nicolas Sarkozy had dipped into the elderly woman's coffers to fund his 2007 presidential campaign. Sarkozy's alleged involvement became the cornerstone of the so-called "Bettencourt Affair," which resulted in him being investigated for illegal campaign financing. The charges were dropped in 2013 for lack of evidence.
But that doesn't mean Bettencourt was allowed to live out her senescence in peace. In 2015, a total of eight men were found guilty of exploitation over the course of a five-week trial, having siphoned billions from her vast wealth.
G/O Media may get a commission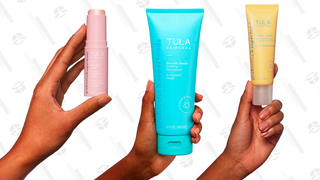 Bettencourt's death was confirmed by her daughter, who said in a statement that "Liliane Bettencourt died last night at home. My mother left peacefully."