Lexington, Kentucky will be the next city to shuffle the location of two of its Confederate-era monuments, the city's mayor, Jim Gray, revealed on Saturday. The original plan was to announce the statues' removal next week, but the deadly events that unfolded over a brutal weekend in Charlottesville have hastened Gray's decision. Allow him to explain in a series of tweets:

G/O Media may get a commission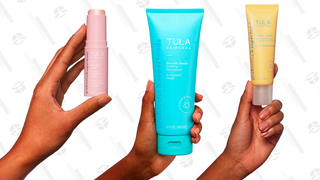 The statues in question are of John Hunt Morgan and John C. Breckinridge, both of which currently stand on the grounds of Lexington's former courthouse, soon to be converted into a $30 million visitor's center, complete with a restaurant, office space and bourbon bar. Gray's hope is that Lexington can position itself as a progressive hub of "the new South," though such an image will be difficult to secure as long as it retains its Confederate icons.
According to CNN, Morgan served in the Mexican-American war and fought for the Confederacy until he dropped dead in 1864. Breckinridge, who was the 14th Vice President of the United States under President James Buchanan, was a slave owner and at one point the Confederate Secretary of War.

White supremacists gathered in Charlottesville this weekend to protest the city's relocation of a statue of Confederate General Robert E. Lee. Violent clashes left one dead and dozens injured after a driver, identified as 20-year-old James Alex Fields, drove a Dodge Challenger into a crowd of counterprotesters around 1:45 p.m. on Saturday. The impact killed Heather Heyer, a 32-year-old paralegal who attended the rally in protest of the hate and bigotry for which it stood.

Gray said that he will ask the the Lexington-Fayette County Urban County Council to request a state commission for permission to remove the statues. If approved, the statues will simply be relocated to a nearby park honoring veterans, which doesn't seem like enough.