Apparently today is "National Lipstick Day." "National Lipstick Day" is not a real holiday, but it's a great excuse to look at some vintage cosmetics. Let's get inspired.
To start us off, here's a 1939 newsreel on the making of lipstick, via British Pathe. Apparently the process involved olive oil. Please note that nurses, WACs, and wardens all need different shades.
Women applying lipstick has long been a favorite subject for photographers. Here's a 1925 shot from the glory days of the "Cupid's Bow," featuring some lady posing with her stencil to get the right shape.
What photogs really love, though, is catching ladies with their mouths dropped open, a cousin to the Sparrow face.
G/O Media may get a commission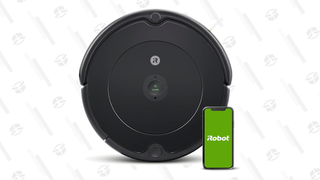 35% Off Black Friday Deal
iRobot Roomba 694 Robot Vacuum
Of course the other popular pose is hands to face. From 1964, here's a striking shot of a Nigerian woman modeling a lipstick/nail combo that was stylish that year.
Nothing matches good, old-fashioned print ladymags, though. In 1958, it was all about the spiffy holders. Revlon had the "Futurama" case, and Cutex was not to be outdone.
Those kits they're always peddling at Sephora? Yeah, that's an old trick that you'll see popping up often in women's magazines from the period. Though they all seem to feature this satin lining:
Guess you could shove more colors into a single ad by 1974:
Oh but truly, nothing beats the 1980s. Naturalism—who needs it?
But of course, the downside to magazine advertising is that you can't include a jingle. Take it away, Avon UK!

Got a favorite shot of a Hollywood movie star wearing fire-engine red? Fond of crumbling Revlon ads? Collect—be still my heart—old-fashioned cosmetics? Let's see it.
---
Contact the author at kelly@jezebel.com.
Photos via Getty Images.