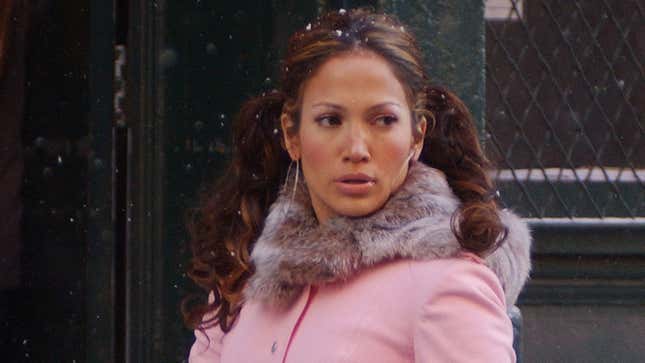 Jennifer Lopez basically invented Google Images because she wore a single dress and, according to the calculations of Jezebel staffers, she also invented hoop earrings, bomber jackets with fur collars, every Going Out top circa 1999 to 2008, and French manicures. Sorry, it's true.

Because of these countless fashion innovations—and her general contributions to style—Lopez will be awarded with a Fashion Icon Award at the 2019 CFDA Awards, Vogue reports. "Jennifer Lopez uses clothes as a way to express confidence and power," CFDA Chairwoman Diane von Furstenberg stated. "Both designers and fans look forward to her fashion statements."
Lopez has great red carpet style, but the CFDA cannot sleep on her music video looks, which have undoubtedly inspired millions of women to go out and buy mini Juicy Couture tracksuits. To honor her CFDA award, the Jezebel staff has compiled our favorite looks from her music video catalogue. We luh ya, J. Lo.

---
The pink winter coat from "All I Have"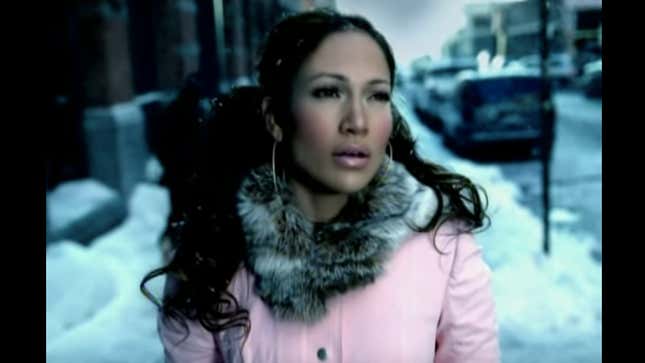 Hazel Cills: When I go out into the snow I'm usually bundled up like a black caterpillar, my eyes peeking out from a small, drawstring hole in my coat. I do not look cute. Who the hell looks cute in the snow, you may ask? Well, J. Lo does, in this baby-pink mini-coat and perfect pigtails. Snowflakes fall delicately on her and never dampen her look. It's really hard to make a winter coat iconic, but J. Lo does it. Who cares if her legs are cold?
---
The perfect pink tracksuit from "I'm Real"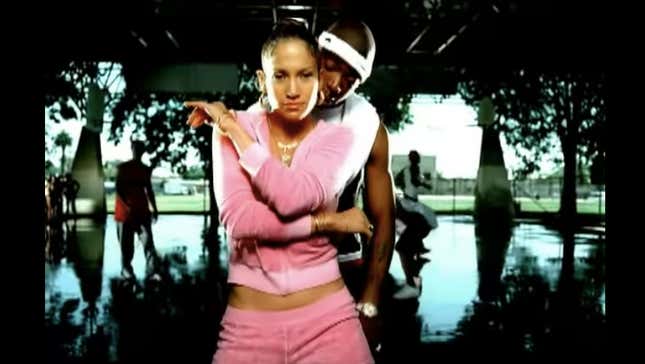 Clover Hope: Velour tracksuits and sets factor into everyone's fondest memories of the 2000s, and J. Lo pretty much owned this lane. Because of her, I had my beige ready-to-wear Macy's Couture tracksuit for any occasion. Exhibit A of J. Lo's velour dominion is the video for the "I'm Real (Remix)," her Ja Rule "Are You Ellie" collaboration. Please note the degree of difficulty in matching a blush-pink velour shorts with a crop-top velour hoodie zipped halfway down in the summertime and making it look good. The video has other trendsetting looks: the one-shoulder Going Out top, the frill-shoulder Going Out top. But the pink velour short set is immaculate.
---
The white tank and jeans, featuring the perfect high half-pony, from "Love Don't Cost a Thing"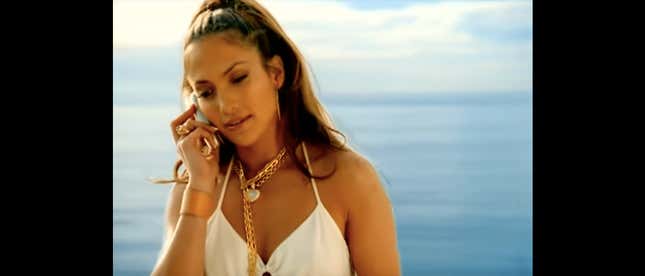 Megan Reynolds: Everything Jennifer Lopez has ever put on her body is instantly legendary, but nothing resonates for me as much as the jeans, high pony, white halter top, and no bra ensemble she wears in "Love Don't Cost a Thing"—a look that inspired my Going Out looks for years in college. Never mind that I lack the rack required to make a floaty white halter top look good—I tried! Jennifer Lopez gave me the strength to wear my hair in a half-up, half-down ponytail and made me realize that it's possible to do this look and not look like a freshly-groomed shih tzu.
---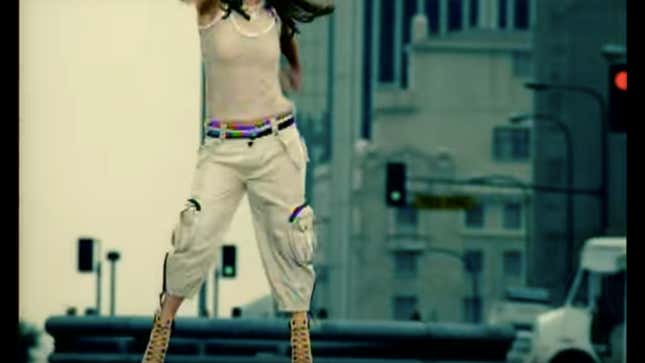 Julianne Escobedo Shepherd: "Jenny From the Block" is woven into the cultural consciousness by now, so it can be easy to lose sight of the impact it had when it first dropped; specifically, J. Lo took the Bronx-standard Timberland boot and made it boughetto, via a stiletto version by Manolo Blahnik. Knockoffs abounded—thank you to the Rainbow for your service—and they became a symbol of grounded elegance in a come-up, aspirational for everyone who knows where they came from. Iconic trendsetting!
---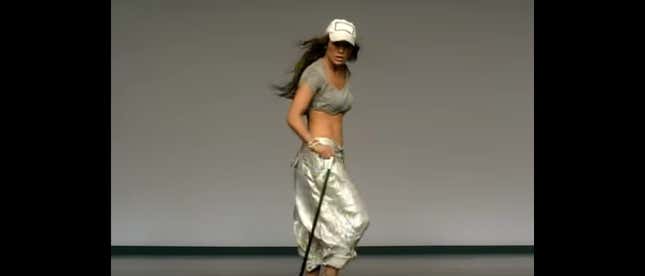 Rich Juzwiak: I like the cane.

---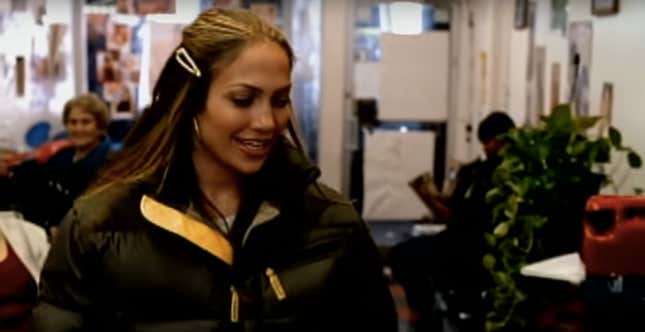 Maria Sherman: There's no way to be sure, but I'm fairly confident my Tia Ruthie bought me giant metal hair barrettes solely because of Jennifer Lopez's crucially underrated look in the "Feelin' So Good" music video. That, partnered with her signature hoops, oversized puffer jacket and regular Timberlands (not heeled) is a quintessential winter-in-the-Bronx look. I still Stan.
---
The gloss, the glitter, the spaghetti strap silk dress from "No Me Ames"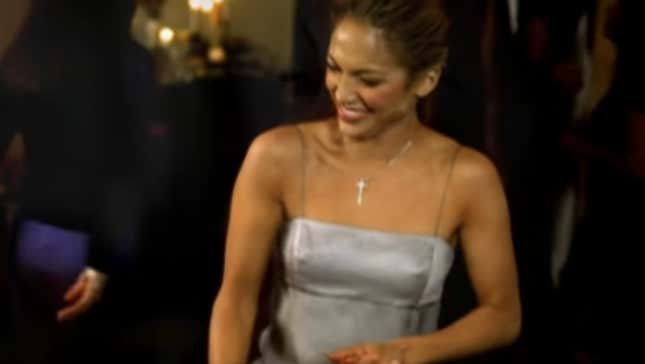 Ecleen Caraballo: I know most of our minds have relegated all the other men in J. Lo's past to a dark corner of our brains now that Arod is in the picture (eeee), and that there's a generation that won't even know about Marc and Lola's love, but it's a truth I personally can't forget. In this Latin pop duet with said ex, she wears many outfits that teenage me definitely had or badly wanted at some point. This look in particular is one I still adore. The glitter, the gloss, the spaghetti strap silk dress, the spiky blonde updo, the cross chain! Never forget.
---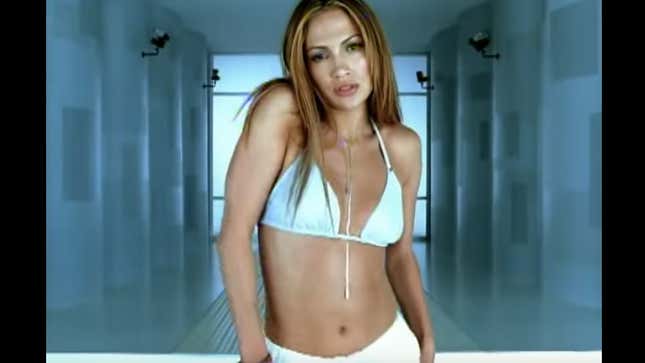 Ashley Reese: This is probably the first J. Lo music video I ever saw, so her outfit left a big impression on me. She just oozed this effortless cool in her silvery bikini top and and matching baggy pants, and her pin-straight hair and frosted makeup sealed the deal as a late-'90s staple.
---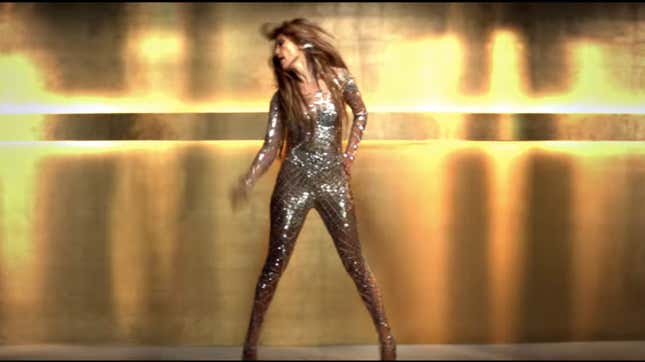 Prachi Gupta: This silver, spiderweb jumpsuit from 2011 was ahead of its time, looking simultaneously chic, glam, and sci-fi. If I could get away with wearing this to my next holiday party, 100 percent would, but I can't, because I'm not J. Lo.
---
The fur coat and white boots in "Play"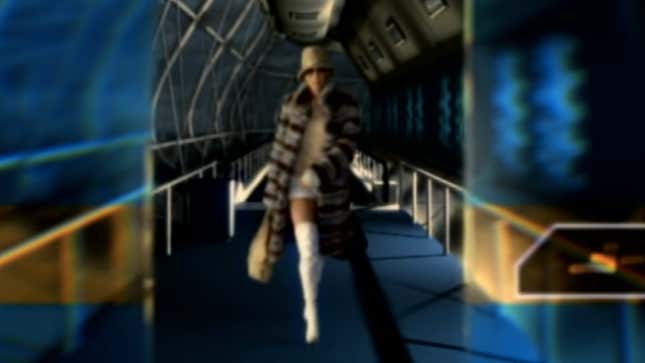 Stassa Edwards: J. Lo's collection of hats is really underrated and paired here with white boots, white shorts, sunglasses, and a fur coat, it's really the perfect "casual" J. Lo look. Truly aspirational.