Four years ago releasing a movie or television show through a service like Amazon or Netflix wasn't exactly fashionable. Transparent had not yet taken home an Emmy, and Netflix was just getting into original television programming with shows like House of Cards and Orange Is the New Black. Now, it seems like there are more platforms than ever to release new works, with places like Hulu and even Facebook looking to make original projects.
And now movie directors are flocking to these platforms because of the freedom they permit creators. Here, on Amazon, is both where Barry Jenkins can adapt Colson Whitehead's The Underground Railroad and alleged pedophile Woody Allen can make a TV series. Netflix can acquire the distribution rights to a movie like Okja but it also wants to produce and commission more content in-house, like Adam Sandler's multi-part movie deal. Spike Lee had several movie studios turn down his film Chiraq before finding its forever home in Amazon.
Streaming creates opportunities for directors who might not get work made through the traditional systems of TV and film—giving people like Jill Soloway, Jenkins, and even '90s indie darling Whit Stillman (whose pilot in 2014 failed to get an audience) a place to really experiment. But there's one struggling director who would benefit the most from this shift who surprisingly hasn't yet had a project in the works: The Pope of Trash, John Waters.
Let me just say, John Waters is fine. The man is a prolific book writer who tours the country often and does minor acting roles here and there, while Hairspray the musical is seemingly touring all the time. But he hasn't written or directed a movie since 2004's Dirty Shame and has been quite frank about the struggles he's faced as a filmmaker trying to get things made nowadays.
"[After] my last film, I couldn't get the money to make a new one. The film business has changed," he told The Dissolve in 2014. "They want you to make it for no money. My last book was on the bestseller list, so I'm having better success there. But I'll make another movie." He has several unmade movie ideas with the most popular being Fruitcake, his demented Christmas children's movie that initially had Parker Posey and Johnny Knoxville attached:
The plot is officially under wraps but is said to center on the title character, a boy named after his favorite dessert. He runs away from home during the holidays after he and his parents are caught shoplifting meat, then meets up with a runaway girl raised by two gay men and searching for her birth mother.
G/O Media may get a commission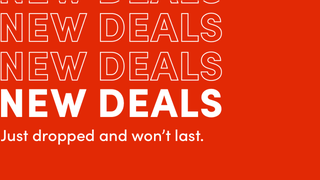 Up to 70% off
Wayfair - Cyber Week Deals
Would! Watch!
It isn't as if Waters hasn't been approached by studios to make other projects. In an interview with Flavorwire he talked about the process:
Oh, I've pitched every one of those people! I had three development deals that never happened, I had three deals with HBO, one with NBC, that didn't happen… Each one, paid me very well, Hollywood money to do it. So it's not like I haven't been out there, that's four projects. But at the same time, the books did great, my spoken word show is out there all time...And if I wanted to make a movie for $3 million, I could do it tomorrow. But I have no desire to be a faux-underground filmmaker at 70. I know, I did that, I'm not going backwards. And if I don't make another movie, I am fine.
So, maybe he doesn't want to make a new movie, maybe he does. Clearly, Waters is a busy man. But I look at what David Lynch is doing for Showtime (a very rare experience, I know) over the course of 18 hour-long Twin Peaks episodes and feel like there might be a place for John Waters again in this current landscape of "TV shows that are movies, movies that are TV shows." I didn't think Lynch would ever make a new project again (I thought perhaps he would continue making coffee or making music about clowns forever) but here he is in 2017 weirding everyone out again on TV.
I don't want to speak for John Waters but I assume the man, given his taste, would not be picky about where his films are distributed. This is someone who once distributed scratch 'n' sniff cards for one of his movies. And unlike, say, some directors who are less than happy about distributing movies through a streaming service alone, Waters would mostly likely be happy to as he lives for trash. He might even make a Disney Channel movie starring Bella Thorne! And now that I'm really thinking about it, that actually might be the perfect vehicle for him.