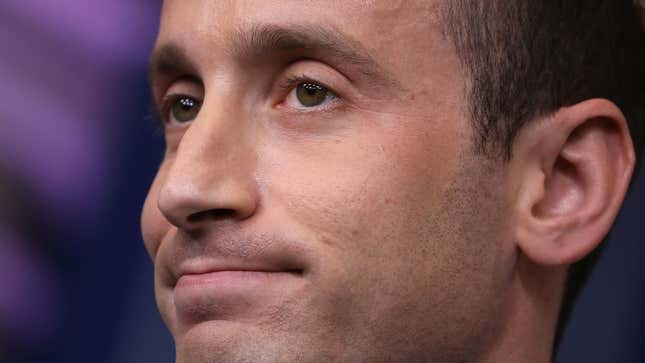 Mike Pence has a new press secretary, and it is 27-year-old Katie Waldman, who made quite a name for herself when, as a deputy press secretary at the Department of Homeland Security, she publicly defended the Trump administration's separation of children from their families at the border, at times describing people attempting to cross the border as a "violent mob of migrants." She is also, fittingly, reportedly dating Stephen Miller.
Washington Post immigration reporter Nick Miroff casually dropped the tidbit about Miller and Waldman's unholy coupling when he shared news of Waldman's hire:
Waldman, much like her alleged boyfriend, has a long history of being an asshole. Here's just one fun story: in 2012, when Waldman was in student government at the University of Florida, she came under fire when she and another student were seen throwing away hundreds of copies of the school's newspaper the evening before student government elections. The front-page of that edition was the news of the head football coach's endorsement of a candidate from the party opposing Waldman's Unite Party. Other students were dismayed when she not only faced no consequences for her actions, but remained in student government.
"Sen. Katie Waldman's appointment to the position of allocations chairwoman is an affront to the students of UF. I do not question her qualifications, passion or work ethic. I question her ethical and moral fiber," wrote Max Stein, the Assistant Minority Leader of the Students Party, in the school's newspaper.
Sounds like not much has changed for Waldman!