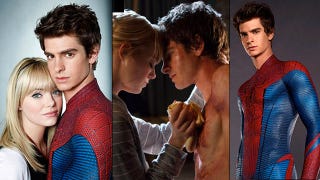 Ooh! Columbia Pictures has released a first batch of official movie stills from The Amazing Spider-Man and I happen to think they look pretty promising. The newest of the Spidey series will star Andrew Garfield as Peter Parker and Emma Stone as Peter's other, blonde-haired love, Gwen Stacy (not the red-headed Mary Jane originally played by Kirsten Dunst). Let's take a gander through some of the film's publicity shots and decide what to think.
Here we have Spidey decked out in his Spidey Suit. Looks good and all, but what's with his fingers? Is Spiderman shaming the bad guy with his pointer finger or just harnessing his chi? Moving on...
Hey! What's the guy from The Social Network doing on the top of that subway car? Doesn't he know that it's totally unsanitary to touch the inside of a New York City train with your bare hands? Somebody give the man some antibacterial hand sanitizer, STAT.
Ah, now we're talking. To me, this sole image explains any questions in my mind about why, exactly, the two began to date in real life upon filming the movie.
Click any image to enlarge.
So what do you think? Are the steamy pix of this real-life Hollywood "it" couple enough to make you go out and see the movie — or are you longing for Tobey McGuire to get back into the Spidey suit? Or, if you're like me, are you "not that into" superhero flicks and find yourself waiting until Ryan Gosling to be cast in a reboot of, say, The Invisible Man? Just me? Okay, then.