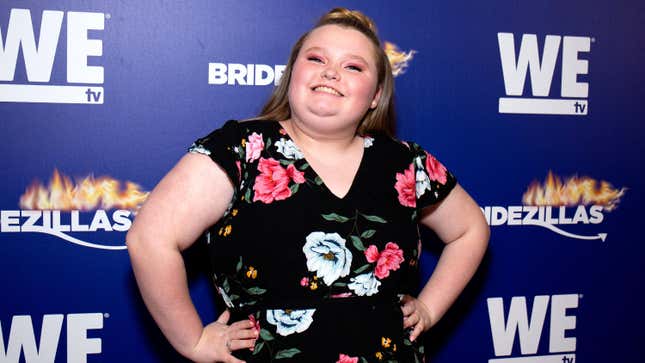 You'll likely remember Honey Boo Boo from her iconic 2012 turn in TLC's morally questionable Toddlers & Tiaras (does "COUPON QUEEN" ring any bells?). But now, her baby beauty queen persona is dead and gone, despite forever living in audiences' minds as a toddler in pin curls and sequins. She'd like you to please call her by her real name now: Alana Thompson.
"I feel like since I've been on TV for such a long time, since I was younger, a lot of people still picture me as a little kid," Thompson told People.
In case you'd like to feel old this morning, Thompson is turning 18 in August, and graduated from Wilkinson County High School this year. She's preparing to go to college later this year, and has been dating 21-year-old Dralin Carswell for two years. On her Instagram, where she has 1 million followers, she posts demure selfies with false eyelashes, nail extensions, and high-glam wigs. No tiaras in sight.

"A lot of people still think like, 'Oh, you're not supposed to be this' and 'You got a boyfriend? Oh no, you're not supposed to have a boyfriend,'" she said. "And it's like, I'm almost going to be 18. I've already graduated high school. I'm basically already grown."
Though I am actively mourning one of my favorite reality television personas to date, Thompson might continue her career as a reality star, this time as a Grown Young Woman. In 2021, she told Teen Vogue in a profile story (accompanied by a rather chic photoshoot, mind you!) that starring on a reality show had been a smart financial move, that she'd never expect to make that much dough in a "normal" job, and that she assumes existing in front of cameras is much easier than said regular jobs. (It probably helps when you're cute as a button and house an endless repository of sick one liners.)

Thompson left the 2012-2014 series Here Comes Honey Boo Boo because her mother, known as Mama June, began dating a registered sex offender. The mother and daughter then starred on WE tv's Mama June: From Not to Hot for six seasons, until, in 2019, Mama June was arrested on possession of a controlled substance and drug paraphernalia charges. But Thompson hasn't ruled out letting cameras follow her around on a college campus.

"I am ready [for college]. I think that it is definitely going to be a different journey," Thompson said. "I don't know if the cameras will be following me just yet. Y'all are just going to really have to wait and see what happens."

Forever a baby pageant queen in our hearts. We love you, Adult Honey Boo Boo.
---