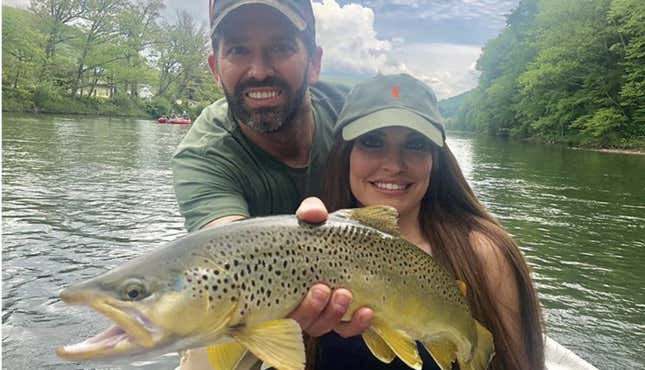 Now that Don Trump Jr regularly gives crass speeches to the denizens of so-called "real America," he loves to gather evidence to shed the notion that he's just another New York City rich boy. Though Don Jr.'s love of the great outdoors appears sincere, he consistently returns to a specific stream of content to help him maintain an everyman image: photographs of his passion for capturing creatures of the sea.
The latest example is from this weekend, when the recently subpoenaed beard man spent Memorial Day weekend honoring fallen troops and abusing Instagram's multiple photo upload feature. Don Jr. posted seven photos and one video of himself (and girlfriend Kimberly Guilfoyle) posing with some freshly caught fish during a fishing venture he described as "epic."
"Epic day on the water yesterday with @kimberlyguilfoyle and @guideroblewis," Don Jr. wrote. "Big fish and lots of them with some epic dry fly action along the way despite some rather heavy showers. #flyfishing #dryfly #fishing #trout #outdoors." Guilfoyle also posted photos of the fishing excursion, with better filters.
But as anyone who shares the misfortune of being well acquainted with Don Jr's Instagram account will know, big fish content is a staple. In fact, though Don Jr. appears partial to posing with basic river fish, he loves posting photos of himself wrangling any number of sea beasts for his 1.8 million followers. In 2019 alone he has posted the following underwater content:
A photo of himself cosplaying as cast member from Deadliest Catch.
Trout.
More trout.
A fish that really could have benefited from a red-eye eraser in post-production.
Trout.
This thing.
A fucking shark.
Big trout.
Another big trout.
These posts may not rack in as many likes as his reposted MAGA memes, but it's safe to say that this fish content is here to stay.
Sorry, buddy.