An Arizona antiques museum is shutting down, and the owner is selling more than 30,000 pieces from its extensive holdings. Anybody in the market for an early wooden telephone? World War II-era radio? Reel-to-reel tape recorders? Oh, I know—a stunning gramophone?

AZCentral.com reports that Kenneth Soe, who owns Smitty's Antiques Museum in Mayer, Arizona, has decided to shut down the local attraction due to expensive flash flooding damage in the parking lot, on top of spending he'd already done to upgrade the place. Which means that he'll be selling everything off in a sale that can only be described as fucking incredible.
"It's going to take several sessions, several weeks. We figure eight weeks of auctions, every Saturday," Erik Hoyer, owner of EJ's Auction House, told 12News.com. I cannot sufficiently stress to you how much awesome shit is included in the multiple auctions already listened on the website. Have you ever seen anything that so loudly screams "hostess with the mostest" as these plates?
There's loads of carnival glass—not my thing but maybe yours!—model cars, porcelain figurines, outdated technology, and all manner of other things that would look incredible in your bedroom if your aesthetic is antique-store chic. (Which mine definitely is.) I've perhaps never needed anything as much as I need this antique Kellogg wooden wall phone with "a lot of wear and tear."
G/O Media may get a commission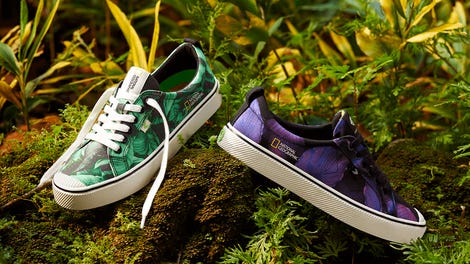 New New New
Cariuma + National Geographic
The listing is very careful to specify that there is no guarantee this stunning Crosley radio is fully operational but who cares? The point is to make the vanity table that I will one day own look even more art deco and like I'm a starlet in a light comedy from the early '30s, not to actually listen to WNYC, which can be accessed via a damn app in this day and age.
Bakelite rotary phones! Two of them! Fuck!
Hello, I am a heroine from a sexy drama that involves a lot of sweltering. I wear scarves even when it's 95 degrees out.
Do I even want to think about the logistics and expense of getting this actual gramophone shipped across the country? No. Do I desperately want to own this actual gramophone? (That was a rhetorical question.)
Of course I'm leaning very heavily on my own personal picks here, but if your style is less great-grandma who watches exclusively TCM and collects artistic lampshades, more 1990s teen hangout featured on a after-school TV show, don't worry, there's plenty for you. Like this phone featuring the 7-Up mascot, Spot.
Truly there is something for everybody, even the people who work on American Horror Story, who really need this lot of "antique dental teeth & chrome crowns." Incredible!