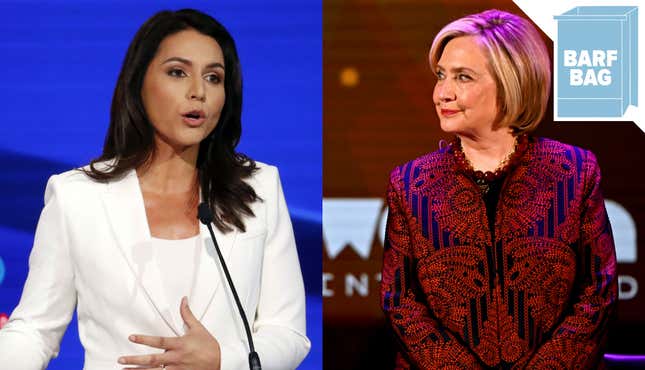 The girls are fighting!!!
Here's all the shit we couldn't cover today:
Hillary Clinton has a conspiracy theory she wants to share: "I'm not making any predictions, but I think they've got their eye on somebody who is currently in the Democratic primary and are grooming her to be the third-party candidate," she said on former Obama advisor David Plouffe's podcast. "She's the favorite of the Russians." [CNN]
And Gabbard is pissed, calling Clinton "queen of the warmongers." Whew!
Taylor Lautner Doesn't Even Remember Saying 'Bella! Where the Hell Have You Been Loca?'
John Kasich thinks it's time for President Trump to be impeached, even though it bums him out!
Here are some tweets the president was allowed to publish:
This has been Barf Bag.