This is not, in fact, a Norwegian black metal concert, but the runway today in Paris for Rick Owens's new menswear collection. Fashion! So fickle! So fun! So TERRIFYING AHHH GET THIS MONSTER AWAY FROM ME!
For his autumn 2016 menswear collection, Owens gave his models what look to be glorified and artfully draped sleeping bags—very The Revenant, very NOW—and made some of them up in replicant-ish white face paint inspired by the 1960 horror film Eyes Without a Face, in which a young girl's disfigured face is hidden behind a creepy-looking mask while her father serial-kills other young women in attempts to graft their faces onto that of his daughter.
Automatically the mind travels to fashion, where we are afforded the opportunity to alter who we are as much as we want, and where we are offered—nay, bombarded—with so many choices it pushes us all off our rockers a little bit—or a LOT.
After running to escape these horrifically painted runway models, would you wear these Snuggies? What do they say about society? Is Rick Owens, the man who's offered us Donald Ducking and 69ing (the normie way) in recent seasons now anticipating with his characteristic vision a future in which climate change will force us to wear our bedrolls to the club?! LET'S ASK RICK:
"Organic voluptuousness," he told the AP in this aprés-runway interview, "which I enjoyed. Then I was like, god, is this stuff too much? And I thought, well, that's kind of what I do. Too much." Kudos to anyone who admits that their modus operandi is literally doing too much, but particularly Rick, who himself looks like the lead singer in a Type O Negative tribute band, and can make the return of ginormous UFO pants on the runway—in orange, no less—seem like the most excellent idea for your mans to wear next season! Like, I definitely am buying that shit for my boyfriend! He will definitely not look like a teen raver on a time traveling mission from 1993 who got lost on his way to a NASA party. RICK!
G/O Media may get a commission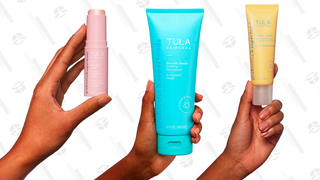 ---
Contact the author at julianne@jezebel.com.
Images via AP