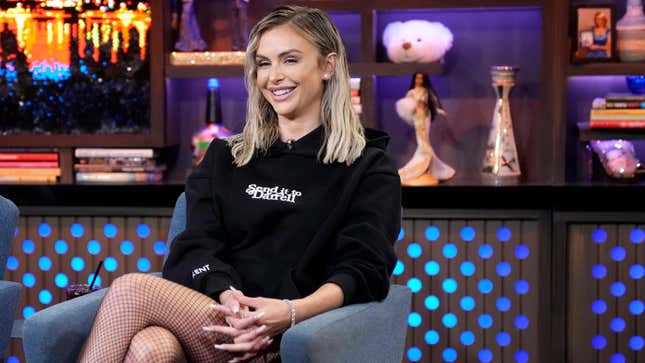 The internet is well known for handling multi-faceted women very well, especially when they're mothers. Social media commenters especially embrace the duality of woman, encouraging influencers to express themselves freely.
Raquel Leviss Told Us 'I'm Like, A Good Person' Just 48 Hours Before #Scandoval
Hahahahahaha who am I kidding.
Vanderpump Rules star Lala Kent, who has never been one to hide or be ashamed of her bod, posted an Instagram slideshow exhibiting that duality—and, according to Page Six, fans found it "controversial."
The post features just two photos: First, an image of her daughter Ocean and VPR castmate Scheana Shay's daughter Summer, both of whom are 2 years old, being cute and peering out into the distance from behind a fence. Second, an image of Kent in a black high-cut bodysuit and heels, hands on her bare ass cheeks, also looking out into the distance. The caption reads, "Mom's turn."

See for yourself:
In a thoroughly unsurprising turn of events, commenters made this string of photos about Kent's parenting skills, noting it was inappropriate that she dare show her body anywhere near a photo of toddlers.

"This post is just weird on EVERY LEVEL!" one pearl clutcher wrote.

"Thank God my mom never acted like this. I would have been so embarrassed," another commented.
The way I see it, the only correct response here is the one that came from former VPR castmate Stassi Schroeder, who is also a mom: "Omg HAHAHAHAHAHAH. Also you look amazing."

Some Instagram users might find the photo combination "weird"—fine. But it actually tells us nothing about Kent's parenting, which, at least from what we've seen on television, she seems to be pretty good at! Kent can post ass photos and be a good mom. It's 2023, people.

---