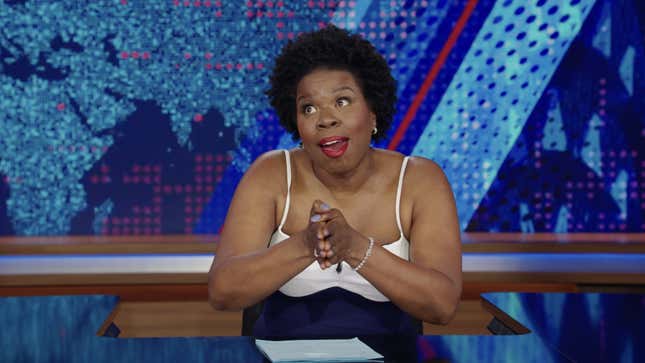 When Trevor Noah departed The Daily Show last month, he offered up some final wisdom: "If you want to truly learn about America, talk to Black women." Leslie Jones kicked off her week of guest hosting by citing that wisdom and spending the rest of the show proving it with her charisma and wit. Jones filled the half-hour with an energy the show's been lacking for quite a while—and it was a damn delight.
For someone who once told The Wrap that she wanted Saturday Night Live, which she was on at the time, to "do more funnier stuff instead of a lot of political stuff," Jones expertly wove an effective confluence of the two. Her first segment reprimanded President Biden for holding classified documents in his garage and name-dropping his Corvette, while also mocking the liberal tendency to protect him against double standards. It was a really refreshing take on an issue that could've easily felt stale and hypocritical.
My favorite bit of the night was when she did a deep dive on the recently unveiled Martin Luther King Jr. statue in Boston. The statue, by artist Hank Willis Thomas, has received a lot of "crude criticism," as CNN puts it, since, from certain angles, it certainly looks like a leg wrapped around someone's head. "This is our civil rights icon….(long pause) going down on his wife," Jones said. When the image of the sculpture pops up in the frame, Jones stares long and hard into the camera. "Has anyone in here ever been eaten out?" she asks. "Because they are celebrating you in Boston right now!" It was sort of exhilarating having a host who, we assume, has been.
Jones' raucous spirit and boundless energy can sometimes be misinterpreted as her winging it. But if this episode showed us anything, it's that this is certainly a poor judgment of the veteran comedian. Remember that great quote in 10 Things I Hate About You where Chasity ponders if one can be just "whelmed." "I know you can be overwhelmed, and you can be underwhelmed, but can you ever just be whelmed?" she asks Bianca. That's exactly how I felt about Trevor Noah as host. I didn't dislike him at all, but I certainly wasn't seeking out his take on political matters. I was "whelmed" by him. So the jolt of joy Jones brought to the show is a welcomed change after seven years of Trevor Noah and frankly the last few seasons of John Stewart, as well.
Another notable departure from hosts' past was that Jones took her infectious energy to the streets. Normally, in Noah and Stewart's reign, the correspondents would do the man-on-the-street style segments, but Jones herself was in Times Square asking clueless white people how they were celebrating MLK Day. It was the perfect showcase of Jones' excitement and relatability.
Following Jones this week are guest hosts Wanda Sykes (week of Jan. 23), D. L. Hughley (week of Jan. 30), Chelsea Handler (week of Feb. 6), and Sarah Silverman (week of Feb. 13.) Comedy Central has also named Al Franken, John Leguizamo, Hasan Minhaj, Kal Penn, and Marlon Wayans as guest hosts but hasn't revealed their dates at this point. It's interesting Jones was chosen to go first—there's a reason someone with the talent and experience Jones has, with over 30 years of touring under her belt, usually goes last. She's a tough act to follow.