Before the Flood, a climate change documentary directed by The Cove's Fisher Stevens, opens ill-advisedly, with an anecdote and photographs from Leonardo DiCaprio's childhood. DiCaprio, who narrates the film, tells us about his father, underground comic book writer/distributor George DiCaprio, who edgily hung Hieronymus Bosch's famous triptych The Garden of Earthly Delights above his young son's bed. Art historians have suggested that the triptych's middle panel shows mankind right before the flood, hence the name of this film.
The Bosch painting provides a powerful parallel. But in immediately positioning this documentary around DiCaprio's personal experiences and life story, Before the Flood risks the exact wrong reaction: cynicism. The actor, reliably outfitted in a variety of stupid-looking newsboy caps, is in every scene; in many ways, it is a film that goes out of its way to show how much its protagonist cares.
The documentary shows DiCaprio giving not one but two speeches about climate change; it also shows him speaking to The Revenant director Alejandro Iñarrítu in the Oscar-winning movie's production offices, then shows DiCaprio filming multiple scenes. Like the Bosch anecdote, it was relevant—The Revenant, which explores mankind's reckoning with nature, had to move its set halfway across the world in order to find snow. But I'm not totally sure why we had to linger there.
At the beginning of the documentary, which was produced by Brett Ratner and executive produced by Martin Scorsese, DiCaprio muses that "the UN may have picked the wrong guy" in choosing him for the job of UN Messenger of Peace, alluding to the fact that he's not feeling particularly optimistic about the future of our planet. The same thought has occurred to me about DiCaprio, albeit for different reasons: Him? Really? The guy who dates a rotating cast of identical Victoria's Secret models, and owns a handful of gigantic luxury homes, and flies around the world on private jets, and hosts fundraising galas for his environmental foundation in Saint Tropez?
What's more, Switzerland-based rainforest charity Bruno Manser Fonds recently demanded that DiCaprio step down from his UN role, citing "close personal and financial ties" to a Malaysian finance scandal, which the charity asserts is an example of the corruption that helps drive the deforestation DiCaprio frequently speaks out against. DiCaprio's foundation, which the Hollywood Reporter found to be unusually opaque in its dealings, allegedly received donations from central players in the 1MDB Malaysian sovereign wealth fund scandal; THR's report describes the annual Leonardo DiCaprio Foundation galas as "freewheeling bacchanals in which wives feel outnumbered by suspiciously predisposed Slavic women in bustiers." According to the U.S. Department of Justice complaint, The Wolf of Wall Street was also allegedly financed by $238 million funneled from the 1MDB fund.
(In a response released Tuesday, a spokesman for the Leonardo DiCaprio Foundation claimed it is working with the Department of Justice to sort through and determine whether any potential gifts or donations were received from the parties in question.)
G/O Media may get a commission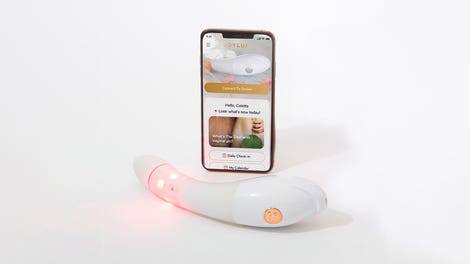 $50 Off
Joylux vFit Gold Device
Amid all this, it's impossible to forget that Leonardo DiCaprio is a living symbol of excessive consumption and male entitlement, despite his years of environmental activism. Is he really going to save us from ourselves? And Brett Ratner?
Probably not, but Before the Flood does, nonetheless, deliver a powerful message, bolstering heart-dropping cinematography with neat expositional asides that end with a plea for viewers to vote (the film was timed to release shortly before election day). Despite its protagonist—who added little to the narrative except, of course, the connections and publicity to get it made and seen, and access to an impressive array of world leaders (Pope Francis, President Obama, UN General Ban Ki-Moon, Secretary of State John Kerry)—Before the Flood is both horrific and galvanizing. A segment about the alarming environmental impact of beef production had audience members in my screening murmuring, "Wow, really?" out loud.
We travel with Leo to the Great Canadian Oil Sands in northeastern Alberta, Canada, which he comments "looks like Mordor" (it does); we fly over palm oil plantations in Sumatra, where the untrammeled burning of one of the planet's last remaining rainforest habitats is not only killing off everything that lives there but is actually releasing enormous amounts of carbon into the atmosphere; we visit the drowning island of Kiribati, a similarly inundated Miami Beach, the melting ice sheets, the bleaching corals, and the White House lawn, where President Obama tells DiCaprio matter-of-factly that if immediate action isn't taken, he's not sure if there's a "capacity for the existing world order to survive the kind of strains the scientists are predicting."
The most powerful moment in the film might take place during a visit to India, home of the world's fastest-growing large economy, when DiCaprio briefly acknowledges American (and his own) consumption in a contentious interview with environmentalist and political activist Sunita Narain. "You have to push the issue of lifestyle and consumption," she implores him, arguing that it's ridiculous for the United States to shift clean energy expectations onto developing economies when the U.S. hasn't managed to transition itself. DiCaprio argues, somewhat uncomfortably, that it's unrealistic to expect Americans to change their habits.
It's people like Narain, not Leonardo DiCaprio, or even the Pope, that makes this a documentary worth watching. We meet people like Piers J. Sellers, the NASA scientist and astronaut with stage four pancreatic cancer who's dedicated his last days to building climate models that might help the rest of us; and Michael E. Mann, who's faced death threats for his research; and Dr. Enric Sala who, while listening to a pod of narwhals with the actor, remarks that "I don't want to be in a planet without these animals."
None of us do. And though Before the Flood is not quite worthy of its colossal subject, it's undeniably potent in its ability to redirect us towards our own responsibility.