Is Leonardo DiCaprio's beard infested with fleas? Maybe! Or maybe not! Different tabloids are saying different things, but you know what? I choose to believe. LONG LIVE FLEANARDO!
According to the National Enquirer, a young woman who encountered Leo was freaked the fuck out after she saw fleas crawling around in his facial hair and now, even his famous friends are grossed out by it. UH-OH.
"Leo's being a good sport about it, but it's starting to, er, bug him now," says a source. "Everyone's begging him to have the beard professionally washed every day, and a few of us have picked him up some flea powder!"
Gossip Cop, always ready to breathlessly defend the rich and famous, has jumped to Flea-o's defense, countering:
Gossip Cop checked in with a mutual pal of ours and DiCaprio's, and we're told the tabloid's tale is not only "absurd" but also "beyond untrue." Mocking the Enquirer and its phony quotes, our impeccable source joked, "There isn't a hair of truth to it." Touche.

G/O Media may get a commission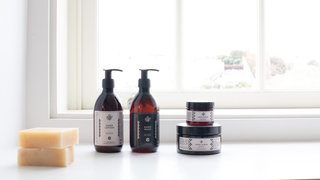 Exfoliate and Hydrate
The Handmade Soap Company
Impeccable. Unlike Leo's flea beard.
---
Alexander Skarsgard talked about dressing in drag for the San Francisco screening of The Diary of a Teenage Girl. ""I was so excited about the night," he told the New York Daily News. "I got to go with my dear friends who are drag queens. That's why I wanted to do it: I was like, 'Aw, man—you're going to have so much fun. I don't want to be excluded from that in this stupid suit.'"
"Oh, baby—don't mess with the drag queens," he added. "Their pain threshold is up there. It's unbelievably painful: shoes, balls, wig, everything is incredibly itchy, hot, painful. My feet were killing me — I couldn't walk." Beauty is pain. [NYDN]
---
Talking about lack of interest from big movie studios with the Hollywood Reporter, Salma Hayek remarked, "I think they don't want me, but I don't really care." Turns out, you (you being Salma Hayek) can derive self worth and satisfaction from other sources. "I've been getting awards from different places for the humanitarian work and I've had a lot of movies come out. Then there is my husband [Francois-Henri Pinault] also who takes me to many places. There's that stuff too and I've just been busy with life." [The Hollywood Reporter]
---
---
Contact the author at madeleine@jezebel.com.
Images via Getty.