Lena Dunham's essay "Deliverance" appears in the November issue of The New Yorker and it's a surprisingly delicate and sensitive piece on what it's like to get raised on takeout food as opposed to home cooked meals. (Disclaimer: If you like Lena Dunham then you will probably like this essay; if you don't like Lena Dunham, the essay is unlikely to change your mind.)
In the piece, Dunham writes of her mother — artist Laurie Simmons — and the guilt she felt about not having the time to cook for her own family:
My mother's best friend, Sarah, is also an artist, also a mother of two, busy and modern. Sarah cooks for her children constantly, and it makes my mother crazy with guilt.
Instead, Simmons and her husband (fellow artist Carroll Dunham) relied on takeout. As with most things Lena Dunham writes, the piece is tinged with privilege — having your food delivered on a nightly basis requires funds that most families don't have. Still, the essay also manages to strike a note of nostalgia for those of us who didn't grow up with Parents Who Cook.
When I was a child, my family wasn't wealthy like the Simmon-Dunhams. My mother was a house cleaner and my step father worked for our city's parking utility, which meant both of them put in long hours at physical jobs and rarely had the energy to throw together elaborate meals for my brother and me. Instead, we had canned soup night, microwave hot dog night and, when we really deserved a reward, takeout from the Cajun place a few blocks away.
G/O Media may get a commission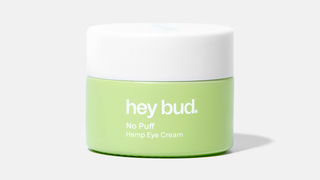 15% off
Hey Bud - No Puff Hemp Eye Cream
In some ways, I think I missed out. I've never really learned to cook myself, mostly because I've always been easily satisfied by throwing together whatever I have in the fridge that's easy to eat cold or heat up on the stovetop. That said, there's something comforting about food that's readymade or immediately available for consumption (especially when someone else is making it and bringing it to your door).
As Dunham elaborates:
Deep inside, I know that my pathological resistance to homemade cuisine comes from something more than a desire to drain my parents of their financial resources and waste endless quantities of cardboard and Styrofoam. There is something so comforting, so magical, about the meal simply arriving, already smelling like itself, laid out like a road map to satisfaction.
What about you? Did your parents cook growing up or did they rely more on takeout and easily prepared foods?
Deliverance [The New Yorker]
Image via Getty.