By now you are aware of the epic saga surrounding Lena Dunham and her dog, Lamby, and also Lena Dunham's potentially unhinged relationship with the concept of Truth. Did Lamby ever actually suffer from behavioral problems, or did Dunham invent them so she could dump Lamby for two newer, shinier pups to write about in the New Yorker? Or, is Lena Dunham such an inept dog owner that she made Lamby insane?

According to Matt Beisner, an L.A.-based dog trainer at Zen Dog who spent a year working with Lamby, Dunham did everything she could before making the decision to re-home him. Beisner told People he has "nothing but respect and admiration for those who work in the shelter world," and said that Lamby's sudden change in personality wasn't unusual:
"The dog that we see in the shelter is often not that the dog that we see in the home," he says. "And often the dog in the home on day one is different than the dog that we see at the six-month mark. It's so predictable that I can almost put it on the calendar. When someone tells me they adopted a dog, I'm waiting for them to call."
By the time Dunham reached out to him, Dunham had already worked with six other trainers. It quickly became clear why:
"He didn't want to be touched and he didn't want to be handled," he says. "When he came to us there were days where we had to carry his crate out to the yard and open it to let him come out because we couldn't safely put our hands near him to get a leash on him to walk him."
G/O Media may get a commission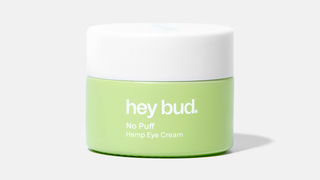 15% off
Hey Bud - No Puff Hemp Eye Cream
Beisner defended Dunham as a "really proactive, diligent" pet owner who evidently did not want to give up Lamby, only changing her mind when one of Beisner's staff members offered to adopt him in March. Personally, I'm glad that Lamby has found a home that suits him, and think we'll only really know the truth about Dunham's dog ownership abilities when we see how Karen and Susan grow up. If they don't both graduate top of their class from Harvard Law she has FAILED.
[People]
---
Penelope Disick turned 5 and also I didn't know that Will and Jaden Smith were tight with the Kardashian/Disick clan? From Hollywood Life:

The party was filled with fun for adults and children alike, with Penelope and her guests enjoying rap performances by both the legendary Will Smith, 48, and his equally famous son Jaden, 19. When Jaden took to the backyard stage to throw out some sick beats in just a pair of overalls (no shirt!) he picked up the birthday girl's little bro, Reign, 2, to help him out.
Aaand here they are:
And later:
You truly learn something new every day. Anyway, looks like everyone had fun.

---
Christopher Nolan didn't grasp quite how famous Harry Styles was before casting him in Dunkirk. [Page Six]
Pitbull and Lenny Kravitz will perform at the All-Star Home Run Derby. [Page Six]

Julianne Hough married NFL player Brooks Laich [People]

Maks Chmerkovskiy and Peta Murgatroyd also tied the knot. [Hollywood Life]