In a long essay published on BuzzFeed Tuesday night, Lena Dunham discussed the various nasty things that have happened since she revealed in her book Not That Kind of Girl that she was allegedly raped in college. "Since coming out as a survivor," she wrote, "I have gone from an intellectual sense of the ways in which victims are doubted and debased to a bone-deep understanding of this reality."
Dunham's publisher, Penguin Random House, has already announced they'll issue a clarification in future editions of the book that Dunham's alleged rapist isn't actually named "Barry," the pseudonym she used, following a horrendous "investigation" from Breitbart that tried to exonerate him. In her BuzzFeed piece, Dunham says her intent wasn't to shame "Barry" or try to make a case for criminal action against him, but to expose "my shame, letting it dry out in the sun:"
Speaking out was never about exposing the man who assaulted me. Rather, it was about exposing my shame, letting it dry out in the sun. I did not wish to be contacted by him or to open a criminal investigation. I am in a loving and peaceful place in my life and I am not willing to sacrifice any more of it for this person I do not know, aside from one night I will never forget. That is my choice.

Like so many women who have been sexually assaulted, I did not report the incident to my college or to the police. Even when I visited my gynecologist complaining of pain, afraid I had contracted a sexually transmitted disease, I could only mumble through a description of that night. After all, I had been drunk and high, which only compounded my confusion and shame. And I was afraid. I was afraid that no one would believe me. I was afraid other potential partners would consider me damaged goods. I was afraid I was overreacting. I was afraid it was my fault. I was afraid he would be angry. Eight years later, I know just how classic these fears are. They are the reason that the majority of college women who are assaulted will never report it.
Dunham also made what appears to be an oblique reference to recent accusations that she sexually abused her sister, writing, "My work has been torn apart in an attempt to prove I am a liar, or worse, a deviant myself. My friends and family have been contacted. Articles have heralded 'Lena Dunham's shocking confession.' I have been made to feel, on multiple occasions, as though I am to blame for what happened." She adds, too, "I am deeply grateful for the support I have received. I am deeply grateful that this dialogue is taking place. I am angry but I am not alone."
She closes by saying that rape survivors "have the right to tell their stories, to take back control after the ultimate loss of control. There is no right way to survive rape and there is no right way to be a victim. What survivors need more than anything is to be supported, whether they choose to pursue a criminal investigation or to rebuild their world on their own terms."
G/O Media may get a commission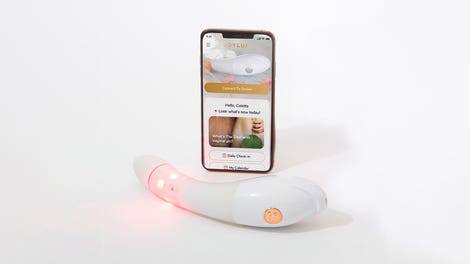 $50 Off
Joylux vFit Gold Device
The essay is complex, intelligent, and passionately written; it's also clearly an effort to get ahead of a threatened lawsuit from the man who believes he was wrongly identified as Barry in the book. He's set up a legal fund, which Breitbart is enthusiastically supporting. The Wrap obtained a statement from Dunham's publisher yesterday in which Penguin offered to pay the legal fees Barry's lawyer has incurred so far, suggesting that they use they donate the legal fund money to "not-for-profit organizations assisting survivors of rape and sexual assault."
Correction: An earlier version of this post stated that the man Dunham accused of rape is considering legal action. That was incorrect: the man considering legal action is a person who believes details in Dunham's book wrongly point to him as being the rapist. I regret the error.
Image via Getty