Lena Dunham defended Dylan Farrow on Twitter today, saying, "Most victims NEVER speak up. Most never feel they can. These are not stories we tell for fun, attention or revenge. If you think I wanna see a link to your shitty blog about how the American legal system fails sex offenders you are a dummy #blocked." SNAP.
G/O Media may get a commission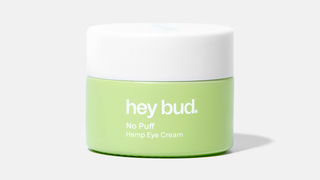 15% off
Hey Bud - No Puff Hemp Eye Cream
This whole situation is obviously horrible, but I just wanted to say that I've read at least ten moving, unflinching, clear-eyed think-pieces today about the importance of listening to victims, and I'm feeling really grateful for the feminist blogosphere. [E!]
---
Tom Arnold says he works on maintaining his weight loss "every day."
Tom Arnold lost 89 lbs. last year by changing his diet and exercising, but continuing to keep a healthy lifestyle is a difficult task he faces each day.

"Every day I'm working at it. It can be challenging and some days I do better than others," Arnold, 54, told PEOPLE at DirecTV's annual Celebrity Beach Bowl football game in New York City on Saturday.

"Every other time I lost weight and got to my goal, I ended up gaining it all back. This time it's a lifestyle change and it's also for my wife [Ashley, 38] and son [Jax, 9 months]. So every day I work on it. I just have to be aware of it and it gets a little bit easier."

..."For the Super Bowl, my wife is making nachos that are wonderful with flax seed, and pizza with a cauliflower crust that's crispy on the outside," said the My Big Redneck Wedding host. "It's healthy and tastes great!"
Arnold admits he will eventually cheat, and that's fine with him.

"I've been going through a lot of airports lately and they have Cinnabon and I know one day I will stop and eat one of those. They are so good," he said with a laugh. "When that happens, I will get back at it and continue to eat healthy and exercise. It's okay to cheat once in a while. I know it's okay."
K. [People]
---
Kylie Jenner had to go to the hospital after a trampoline accident. But she's fine. The dangerousness of trampolines continues to be one of life's cruelest tricks. [E!]
Here's a promo reel of Kate Beckinsale starring in Michael Winterbottom's The Face of an Angel, which was inspired by the Amanda Knox case. [E!]
Here's Sofia Coppola on the cover of Italian Vogue. She looks amazing. [ONTD]
Kenan Thompson and his wife are having a baby. [TMZ]
Amanda Seyfried walked her dog. [JustJared]
Mariah Carey showed "MAJOR CLEAVAGE." [Us]
The late Paul Walker's estate is worth an estimated $25 million. [Yahoo!]
Philip Seymour Hoffman will be remembered in a private funeral. [People]
Lupita Nyong'o says she misses living in Mexico because of steak tacos. [HuffPo]
Bill Nye the Science Guy is "debating" creationist Ken Ham right now and you can watch it if you like smart people wasting their time talking about nonsense with wizards! [ONTD]
Sigh, bye.

Images via Getty.